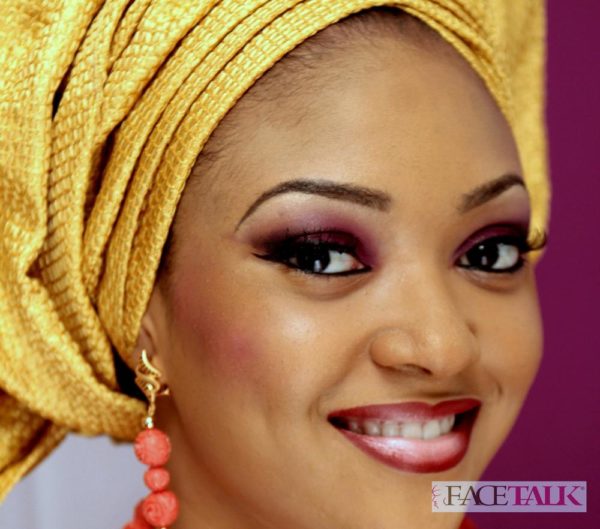 On the 1st fabulous day to 2014, BellaNaija gave to me – a free makeover and more from Facetalk Beauty!
We announced a fortnight of fab giveaways, and this is our first one! To learn more, click HERE! To see other giveaways, click HERE.
Facetalk Beauty is an up and coming beauty brand! The head makeup artist at Facetalk – Ololade Fanimokun was nominated for Best Makeup Artist of The Year at the recent ELOY awards.
You have the chance to win the grand prize – a bridal makeover, or 2 ladies can win a regular makeover and photo session.
See a Facetalk bride below!
***
The Prizes!
Grand Prize:
1. Pre wedding test makeover
2. A 2 day Bridal Makeover (traditional and white wedding) and Headgear tying
3. A 1 day Complimentary Makeover for Bride's mum and tying of gele if it's the traditional wedding
4. Touch-up throughout the events
The 2nd and 3rd Prize:
2 ladies will win a FREE makeover and photo session at the Facetalk Beauty Studio in Ikeja (full address below).
Conditions:
1. For the grand prize – the wedding must be in Lagos.
2. Your wedding must be between January and March 2014.
3. For the non-bridal makeover, winners do not have to reside in Lagos, but have to provide their own transportation to and from the studio.
To Win:
There are 2 easy steps!
1. Follow FaceTalk Beauty AND BellaNaija Weddings on Facebook. Winners will provide their Facebook names so we can check.
2. Write in the comment section of this post:
"Bride" to win the bridal package
or
"Non-bride" to win the non-bridal makeover and photo session.
We will contact the winner via the email you provide in the comments! The competition ends tomorrow – 26th December 2013 at midnight Nigerian time.
Good luck!
UPDATE:
The winners were selected using an internet random name generator HERE and will be contacted shortly – Thank You!
____________________________________________________________________________
To learn more about Facetalk Beauty: BB: 269BC9F9 | http://facetalkbeauty.com/bridals.html | Facetalk Studio – 42, Toyin street, (opp Mr Biggs) Ikeja – Lagos | 080 23465653, 070 66662388.