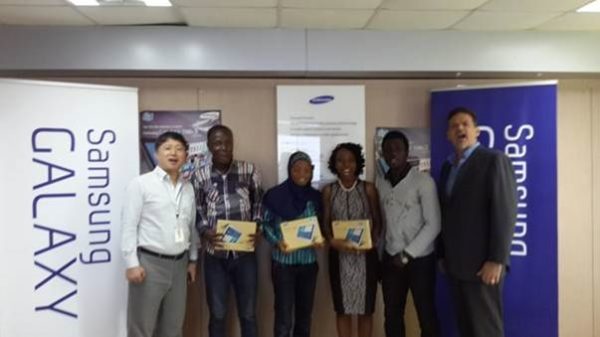 On Thursday 14th November 2013, staff of Samsung Mobile Nigeria shared space in time with the Top 3 winners of the #Samsung1000Words competition.
The competition was designed for amateur writers, bloggers and creative writers, challenging them to write a one thousand word story with the theme "A Day In Life Without Technology".
The winners which consisted of a lawyer and 2 students from the University of Benin (UNIBEN) were colourful in their divergence. The winners emerged after two weeks of intense online voting on the Samsung Galaxy Tab 3 micro-site set up solely for the purpose. Oladimeji Shola, emerged winner with 1,325 votes, Edem Dorothy Andah was first runner up with 1,218 votes and Shaka Muslihat was second runner up with 735 votes.
Over three hundred stories were sent in for the competition, and nine were short listed on the www.samsungmobileng.com/galaxytab3/1000words micro-site where visitors were given the opportunity to vote their favorite stories. The stories were also syndicated on a lifestyle blog, The Naked Convos.
Samsung representatives led by the President of Samsung Electronics West Africa, Brovo Kim presented a Samsung Galaxy Tab 3 10.1 to each of the winners. The winners had a fun time interacting with the team, and sharing their stories and muses.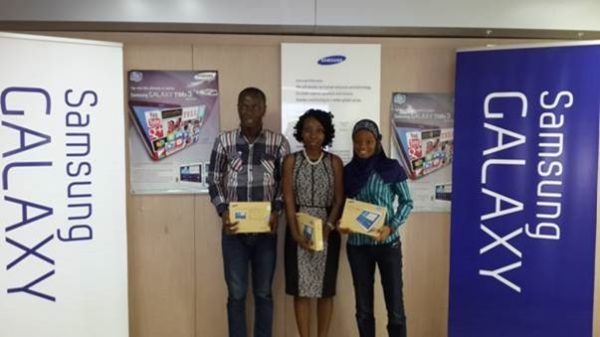 Olumodeji Shola who actually put off his phone for an entire day to write his story said "Technology is an acceptable addiction in our society". His entry, a science fiction titled "The Inexcusable Addiction", made use of futuristic technology and a Time Machine. Using the Time Machine, he is transformed to a time where the Earth experiences a Digital Blackout and all technology is rendered obsolete. He described humans in this phase as "walking like living dead". He ended on a philosophical note talking about the return of family values and a green society which less technology will bring.
Endem Dorothy Andah, a practicing lawyer wrote a story set in Otuwo, Edo State. Dorothy used flashback to weave a tale of the tertiary admission and communication process in 1984. This included the Post Office, Express Post, bank queues and NITEL phone booths. She brought it to the present age of smartphones and Samsung Tabs with Liquid Crystal Displays where pictures and experiences are shared in real time. In her words, "Technology has come a long way since 1984″.
Shaka Muslihat, second runner-up of the #Samsung1000Words competition wrote a romantic poem, 'Missing Piece' to extol the virtues of technology and show how bleak life would be without it. In her words, "A day in life without technology is rather unimaginable to me".
Top compilations from the #Tab1000Words competition will be compiled into an e-book in a partnership Samsung Mobile Nigeria struck with digital publisher, Okada Books.
Reading through all the entries was a fascinating experience for the brand and Samsung Nigeria hopes to inspire more people to achieve their goal of becoming writers/content creators. In their words, "The important thing is to have an idea, and write about it".
The Samsung Galaxy Tab 3 is an amazing device to own and it comes in 10.1 and 7.0 inch screen sizes. The Tabs come pre-loaded with premium content for education and entertainment. The new Galaxy Tab 3S comes with six months free subscription on TELL Magazine and Businessday, 2000 free Spinlet credits, Samsung Class connect (Nigerian secondary school syllabus on-the-go) and a whole lot more.
______________________________________________________________________________________
Advertorial – Sponsored Content