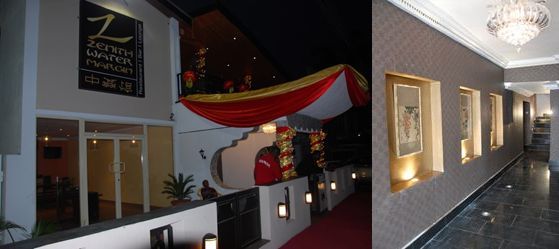 Zenith Water Margin Chinese Restaurant has been a permanent feature on the Lagos dining scene for almost 3 decades.
You are probably thinking "Three decades?! What kind of old washed up place is that?"
Well the answer is that it is NOT old or washed up.
Following an impressive renovation and re-launch a couple of years ago the management of Zenith Water Margin seem to have developed a taste for the constant re-invention and rebirth of their famous family brand.
In its latest incarnation Zenith Water Margin presents itself to you as the perfect wedding reception and event venue for those looking for a more exclusive and intimate affair than we might be used to.
Our culture and society in Nigeria has led us to believe that smaller weddings mean you don't have money. Meanwhile in other parts of the world if you know you are one of just 50 or 100 guests for a wedding you know you can look forward to something extra special. The decorations will be exquisite, the champagne will be flowing and the food will be to die for! Over here we are happy to be lost in a sea of 1000 people begging waiters that are too busy to bring you a plate of food.
However, nowadays, a growing number of young Nigerian couples are focusing on quality rather than quantity and choosing style and sophistication over size when it comes to planning their weddings. Of course convincing the parents and in-laws who usually want to invite 1000 guests is a challenge but another challenge is finding the perfect smaller venue.
The People
The General Manager of Zenith Water Margin, Ufuoma Koloko shone some light on the types of people that have chosen to celebrate their special day at the restaurant. She told us,"Of course we get a lot of people coming from the Registry Office close to us here in Surulere. We also get some that have married in Ikoyi Registry. Weekday mornings or mid-afternoon and on weekends, it is less than 20 minutes drive from Ikoyi to Surulere. Luckily Surulere is central to everywhere. Nobody wants the stress of travelling too far. Some of the  couples who have held their receptions with us have their family homes or attend church close by. Their friends and family have links in the area so they feel at home with us so to speak.
There is no denying that budget is a factor for any couple getting married. But it is not always the case that they have opted for a smaller affair because they don't have money. It can also be that they want to be able to spend more money on less people to give each guest a truly memorable experience.
"That's where Zenith Water Margin comes in. We can work with any scenario and give you the perfect result regardless.
Amazingly we have found that the smaller and more intimate the parties the more fun they seem to have with the drinks and the jokes just flowing"
The Place
So what would having a wedding reception, a 50th Birthday celebration or a company end of year party look like in Zenith Water Margin?
Well remember it is a Chinese restaurant already decorated in a modern oriental theme. However, the management doesn't expect every celebrant to want their event to look like a Chinese affair. They usually work with event designers, Tablescapes by Magenta, to transform the restaurant for events expertly bringing the vision of the celebrants to life.
Tomi Awokoya, CEO of Tablescapes by Magenta told us what makes her company different from other events decorators and described her design process and considerations. "What sets us apart is our ability to artfully blend the clients' style and wishes with space available to produce the desired vision or theme for the day. When we decorate for events at Zenith Water Margin we have to consider the existing décor – rich wallpapers, a prominent pillar and beautifully carved arches and nooks linking the different spaces. Our skill is in evoking a celebratory vibe whilst maintaining the sophistication of the existing décor. We allow for free flow of guests to avoid them feeling choked due to lack of space or overwhelming décor. At Zenith we often play on Feng Shui. Subtle, clean Asian looks that create light airy spaces full of Zest!"
The main reception hall seats up to 100 people. There is a holding bar area that your guests can mix, mingle and have cocktails and small chops in before proceeding to the main hall. There is also a semi private area adjoining the main hall that can accommodate 20-30 people. Some celebrants seat the children and nannies there.
The Process
At Zenith Water Margin we give our wedding parties a seamless service. You don't have to worry about coordinating multiple vendors. We have competent waiters, bar staff and ushers in house – all of whom are focused on making your event the best possible. Nor do you have to be concerned about what is happening to your drinks. You can pre-order your drinks from us or bring your own to the venue (a corkage fee applies). Either way you have peace of mind that all your drinks will be accounted for.
One common thing about all events held at Zenith Water Margin, whether it's a table of 10 or the entire ground floor which seats 100, is that you can tell how relaxed and happy everyone is to be in a totally different environment.
The cakes pictured are by Cake Bazaar.
The Price
Venue Hire only: N250,000
Venue Hire Plus Décor: N400,000
Food and Drinks: Quotations available on request. Dependent on number of guests and menu choices.
Both Chinese and Nigerian dishes are available.
We can also provide a full complement of desserts from chocolate fountains to frozen yougurt.
All prices are negotiable. Almost all budgets can be accommodated.
We don't know about you, but we think Zenith Water Margin offers a genuine alternative to huge halls – perfect for couples wanting something intimate for just closer family and friends or those on a smaller budget. It's also a lovely setting for milestone birthdays and company parties.
The Promise
Zenith Water Margin also prides itself on hosting really fun hen parties and bridal showers! Be the first BN Bride to book and pay a deposit to hold your wedding reception at Zenith Water Margin and win a FREE Bridal Shower for you and your girlfriends.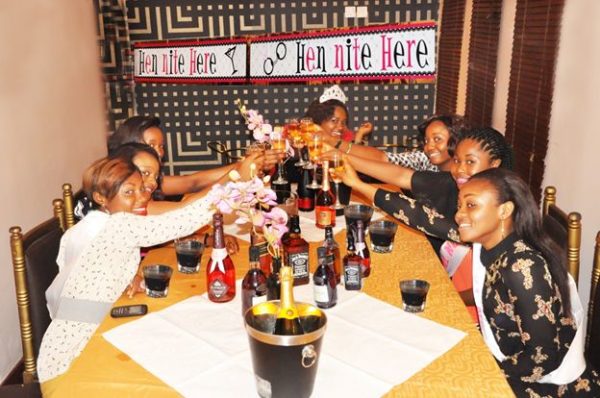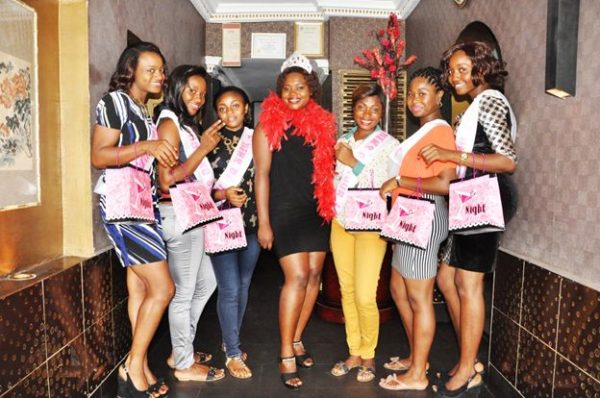 To make inquiries or to book your celebration today call Zenith Water Margin on 07055 437 004 or 08164 541 313 | Visit www.zenithwatermargin.com | Visit Zenith at 28, Adeniran Ogunsanya Street, Surulere, Lagos | For more information on Tablescapes by Magenta contact Tomi on 08132 938 996
______________________________________________________________________________________
Advertorial – Sponsored Content