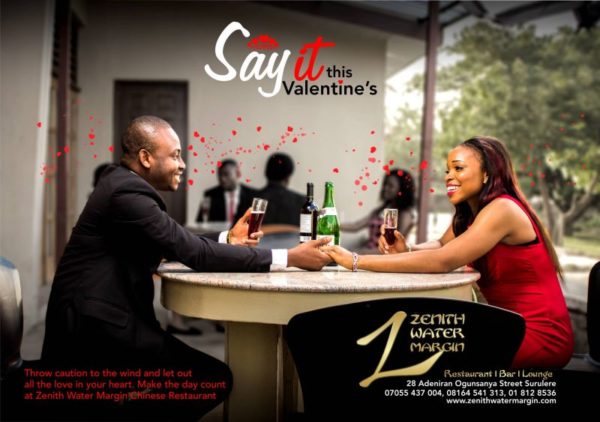 Legend has it that Zenith Water Margin introduced the concept of romantic dinners for two as far back as 1986; way before  the Valentine's fever had gripped Nigerians as it has now. A number of people reading this probably have parents that dated or even got engaged at Zenith Water Margin and went on to celebrate a number of other memorable occasions there.
Why not recreate the magic by bringing your other half there this season? For Valentine's Day and the weekend ahead there are two special packages , option A and B available:
Option A
Price: N25,000 for two
Peking (Hot & Sour) Soup
Chicken Spring Rolls
Butterfly Prawns
Chicken in Black Bean Sauce
Lovers Shrimps
Valentine's Fried Rice
Red Wine
Fruits of Love
Option B
Price: N30,000 for two
Chicken & Sweet Corn Soup
Shrimp spring rolls
Golden Fried Prawns
Shredded Beef with Green Pepper
Love Drunk Prawns
Valentine's Fried Rice
Love Fruit Platter
Champagne
You can also win dinner for two by entering the Zenith Water Margin #Sayit competition.
#Sayit with Zenith Water Margin Chinese Restaurant
BN readers can win a fabulous romantic dinner for Two at Zenith Water Margin Chinese Restaurant by taking part in the special Valentine's promo #SayIt.
To participate, simply write a short poem to your loved one (140 characters max.) You can Tweet your poem @zenithchinese and include the #SayIt tag OR Like their Facebook page: www.facebook.com/zenithwatermargin and post your poem on their timeline.
The author of the best poem will win dinner for two and be notified via Twitter or Facebook.
Let's see how romantic you can get…go on, just #sayit!
Zenith Water Margin is located at 28 Adeniran Ogunsanya Street Surulere
For orders and reservations call 07055 437 004, 08164 541 313 or 01-812-8536 | You can also place orders and make reservations online at www.zenithwatermargin.com | Follow them on Twitter @zenithchinese | Like them on Facebook: www.facebook.com/zenithwatermargin
__________________________________________________________________________________________
Sponsored Content