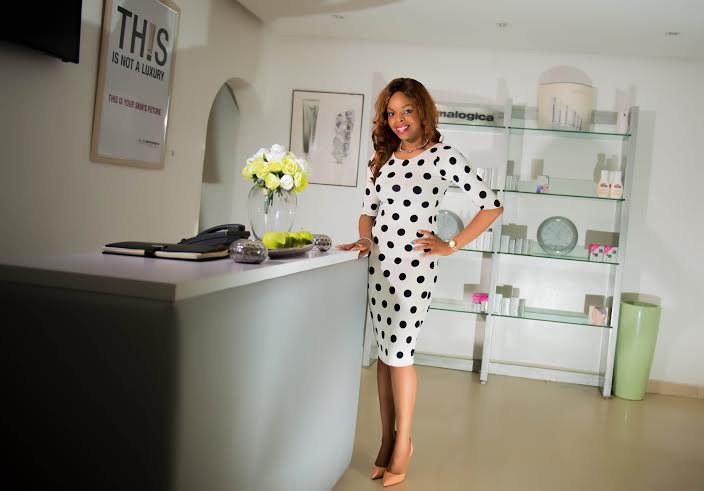 The UK Skin Care Academy (UKSA) opened its doors in Lekki, Lagos earlier this year and promises a fresh approach to skin care services and education in Nigeria. But what about the fresh faces behind it?
Meet the" K" in the UK Skin Care Academy: The Koloko Sisters!
You may have heard of UIC (London) run by Ediri Koloko and its spin-off, Beauty By Appointment Only (Lagos) run by her older sister, Ufuoma Koloko . (You can read the previous article here)
Now, they bring you the next chapter in their story, the coming together of two well established businesses and their evolution into one amazing new power house: The UK Skin Care Academy.
These enterprising young women started with a passion and translated it into a vision. Add a good dose of hard work and an equal measure of good fortune (they were awarded the YouWin grant from the Nigerian Government) and you have a recipe for success right there!
Winning the Federal Republic of Nigeria's YouWin Award
Some people are unaware of the YouWin award and others think it is just a gimmick and will ask "Is that thing real? or "Who did you know there?!" The answer is always the same. They had a vision that came out in the business plan that they wrote and submitted and God did the rest!.
YouWin is an initiative launched by the Nigerian government to help build and grow SMEs to enable them to employ more people and increase job creation opportunities. It's the major reason UK Skin care is finally able to realize their vision here in Nigeria.
A Three Part Vision: Treatment Training and Transformation
It's not hard to imagine the sisters' business plan demonstrated a certain depth of knowledge and understanding about the skin care business because they have been in it for over 8 years now and have a proven track record in both the UK and Nigeria.
They are two very different markets but they have been able to import their UK approach and way of doing things very successfully to Nigeria. That approach is simple. Professional skin care treatments, world class professional products and dealing with customers in a professional manner.
They might not be everyone's cup of tea and don't deal in dangerous creams in unmarked bottles promising instant results. It pains them to turn away customers looking for that type of thing but they would rather do that than be responsible for destroying people's skin to make a quick buck. They stand by rather forming long lasting relationships with their clients because achieving good, great and gorgeous skin is a lifelong project. People in their teens and 20s should be warned. It's not about one time lightening creams, pills and procedures that promise you instant results. Nine times out of ten you may get quick results on the surface but they are unlikely to be good results in the long term.
Treatment
They have a range of treatments to address the following concerns:
• Adult acne
• Male skin challenges
• Teenage acne
• Sun burned or sun damaged skin
• Pigmentation
• Acne scars and dark spots
• Dull, uneven skin tone
• Anti-ageing
• Sensitised skin
UKSA's typical customers are women between the age of 25 and 45 who know the importance of investing in a good skin care regimen. But they also have a healthy number of male clients that want to keep their shaving bumps under control or just look better than their mates! Some of their clients have also brought their teenagers in as they have a great range of products for teenage skin.
Training
Apart from providing treatments the second and perhaps more important element to their winning business plan is their desire to train other young people to be able to become skin care specialists. To achieve that there will also be a training academy offering courses from a leading UK awarding organisation called the Vocational Training and Charitable Trust (VTCT). All VTCT qualifications are mapped to UK regulatory frameworks and are recognised by international employers, governments and professional associations. That means people graduating from the UK Skin Care Academy will be qualified to go and work internationally as skin care specialists in any of the many countries that recognise VTCT qualifications.
Ediri tells us she has a Masters in Education and Social Justice from the University of London plus seven years teaching experience. Coupled with that she has achieved a "Specialist" status at the International Dermal Institute where her and her sister have both been attending courses since they started the business in 2006.
Since Ufuoma is more focused on building their brand and the business development side of things it leaves Ediri to lead in the education space. She selects the right courses for their students and the overall running of the Academy. Enrolment has already commenced and they already have a waiting list for the first course that will begin in November 2014. They plan to run four cycles per year so those that don't make November can start in March 2015.
Transformation
One of the courses is specifically focused on preparing to run a beauty business. This is where the transformation bit of their vision comes in. They aim to help transform people's careers, livelihoods and ultimately impact on society by giving as many people as they can the opportunity to gain the knowledge and skills that will help them set up and run a successful beauty business. This will in turn enable them to employ more people just like UK Skin care Academy.
The business courses will run one weekend a month so that even people that are working Monday-Friday but are thinking of changing career or opening up a side beauty business can attend. As well as the official course content the sisters feel their wealth of personal experiences in setting up and running a skin care business whilst they were both in full time employment will be valuable to those who attend the course. They also plan to invite some of the big names in the Nigerian beauty industry to come and share their knowledge and experiences during the courses too. All this will take place in what is believed to be Nigeria's and maybe the world's first ever Beauty Business Incubator (BBI). The sisters plan for the BBI to be an open house for budding beauty entrepreneurs to meet, share ideas, be inspired and become empowered with some of the fundamentals of building a brand and running a successful beauty business.
Talking of job creation and transforming lives, take a look at what Grace Bassey and Vera Francis, both Dermatherapists working and training at the UK Skin Care Academy have to say…
Vera says…
I started my training immediately which is ongoing. Our MD made us watch her perform treatments on clients, she made us perform them on her and she also gave us treatments so we knew exactly how everything should feel. After that I started working on clients myself. I am currently doing work based training in which I combine study towards a VTCT Skin Care qualification alongside workbased practical training My experiences so far include using foreign equipment like the microdermabrasion machine and ultrasonic equipment. I never realized that working with time was so essential but UKSA has taught me that. I was also introduced to a new product called Dermalogica, how to apply it, what type of skin condition each product is good for and when certain products were to be used. I was taught how to talk and relate to people. UKSA has a special way of welcoming clients and they always tell us how comfortable they are when they visit the clinic. We offer them water, tea and apples and try to make each client feel important. We only offer clients what they need for their skin and nothing extra until they see results. We recommend products for both male and female skin. I love our uniforms because they look very professional. I never thought or dreamt of becoming a dermatherapist, but Ufuoma believed in me, is taking the time to train me formally and look at me now! I will never forget the opportunity I have been given and I am so grateful to my boss."
In Grace's words…
My husband told me of the MD needing someone to help her with some work at home but when she met me, she told him she liked my spirit and loved my skin and felt I could join them at the skin clinic as a dermatherapist. Honestly, I had no idea what that meant but it sounded important so I was happy for the opportunity! I started work on the same day as Vera. We are following a workbased trianing programme at the clinic which includes formal study towards a VTCT Skin Care qualification and hands on practical work with clients. It is going well and I have learnt a lot of new things… like the importance of thorough consultation and how to do a special skin analysis, interacting with people, welcoming them with a smile and asking about how they were. It is important we make our clients feel as welcome and comfortable as possible because some of them come from far distances on the mainland and even from outside Lagos (PH and Abuja) all the way to Lekki! I also received training on the product Dermalogica and how to use the various types of cleansers, exfoliators, moisturisers and, masks. There is a range called Chromawhite which helps to fade dark marks caused by sun and is recommended for both fair and darker people. I have learnt about, Microdermabrasion and how it is used to remove dead skin to reveal newer and fresher looking skin, and fade dark spots. I want to thank the MD for giving me this opportunity.
If you want to come and see the UK Skin Care Academy for yourself, to have a treatment or enquire about their courses please see contact details below:
For all your skin enquiries please email: [email protected] | For enquiries about our courses please email: [email protected]
To book your free consultation call: 09093915506 or 09038678764
Address
The UK Skin Care Academy is located at 14B Charles Ifeanyi Street, Off Adebayo Doherty Road (Road 14), Off Admiralty Way
Lekki Phase 1, Lagos
Opening hours
Monday: Friday 8AM – 8PM
Saturday: 10AM – 6PM
Sunday: 1PM – 5PM
For more information please visit www.ukskincareacademy.com
Photo Credit: Frank Ugah Photography
____________________________________________________________________
Advertorial – Sponsored Content