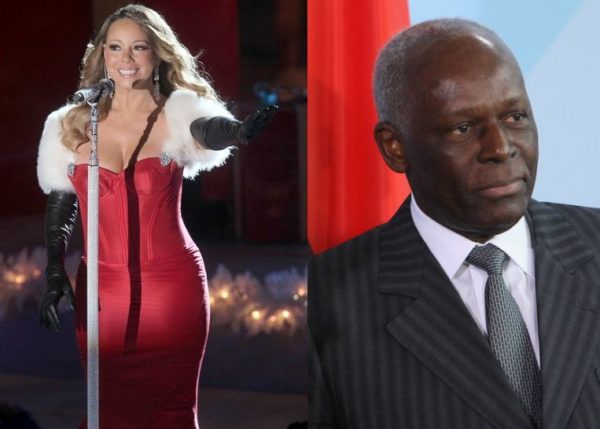 We are pretty sure all Mariah Carey wants for Christmas isn't what is making the headlines lately.
The American music superstar has come under fire by the Human Rights Foundation for accepting "dictator cash" following her two-hour performance at an Angolan Red Cross gala event on Sunday 15th December 2013.
The event was sponsored by Unitel, a mobile phone company owned by Isabel dos Santos. She is the daughter of the Angolan President José Eduardo dos Santos who has ruled since 1979.
Mariah who recently performed in Nigeria at the Access Bank Christmas Party/Aigboje Aig-Imoukhuede Send-off in Lagos, reportedly got over $ 1 Million for the gig in Angola.
Read Excerpts from the Human Rights Foundation's statement;
"Mariah Carey can't seem to get enough dictator cash, reportedly more than $1 million this time. Just five years ago she performed for the family of Libyan dictator Muammar Gaddafi. Now, she goes from private performances to public displays of support and credibility for one of Africa's chief human rights violators and most corrupt tyrants. It is the sad spectacle of an international artist purchased by a ruthless police state to entertain and whitewash the father-daughter kleptocracy that has amassed billions in ill-gotten wealth while the majority of Angola lives on less than $2 a day.

The Angolan Red Cross gala raised $65,000, which wouldn't cover the cost of fuel for Isabel dos Santos' private plane ride to go shopping in Paris. Mariah Carey's transportation alone cost several times that number. It's absolutely shameless," said de Morais."
Mariah isn't the first musician to called out for accepting dictator cash. Jennifer Lopez, Beyoncé and Kanye West have had their fair share of the media drama.