It's the festive season and it is only right that we spend time with our family.
TW Magazine has released its anticipated December 2013/January 2014 "Family" Issue. And the beautiful Majin sisters, Gogo and Patigi grace the cover. The creative directors of their own design brands (GM4FM and Miss Majin) are currently making waves in the fashion industry with their stylish collections.
The designers who are poised to take over the fashion industry, open up to TW about their shared heritage, journey into fashion and how their unique bond as sisters make them stand out as a fashion brand in Nigeria's growing fashion market.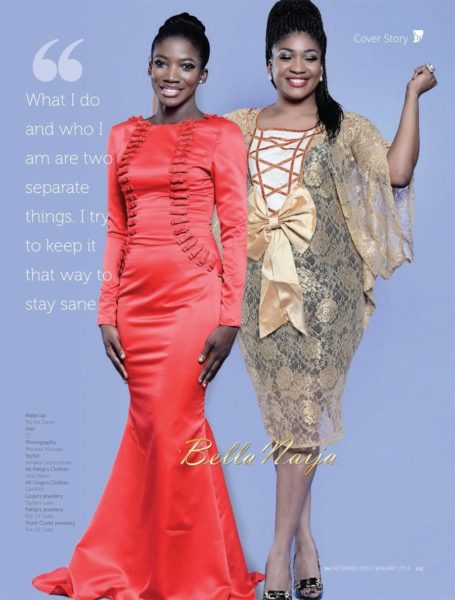 Keeping with the theme of family, TW's celebrity feature is the dynamic fashion duo; The Okunoren Twins. The celebrated forerunners of menswear couture in Nigeria, speak about family influences, and the interesting new direction their label is taking.
Do not miss the exciting chat with Eugenia Abu, the award winning author and veteran broadcaster as she speaks on being named VLISCO's Most Inspiring Woman of 2013, her fruitful career and personal style.
There is also a MUST read feature on four bright young minds who are making their mark in their respective creative fields; filmmaker and music video director Kemi Adetiba, rapper and entrepreneur Eva Alordiah, on air personality Mannie Essien of Cool FM's "Breakfast Show" as well as actor Ozzy Agwu of MNet series "Tinsel".
The  fashion segment this month showcases 20 pages of colourful, must have pieces. Starting with the editorial, which features haute interpretations of style and design by Lanre DaSilva Ajayi, Ella & Gabby, Ejiro Amos Tafiri, AIMAs and Weizdhurm Franklyn, all using VLISCO's high quality hollandaise fabric.
TW also takes a print angle on the "Accessorized" page, while they help you be the perfect wedding guest with their Practical Girls' Guide.
The Celebrity Fitness challenge is over! Catch up with all the finalists, read their stories and see their amazing results.
As usual this edition is packed with regular features on relationships, health, finance and beauty, plus articles to help you live your best, most authentic life, this edition is definitely one not to be missed.
The issue is out and available at newsstands nationwide. You can get TW Magazine on your iPad, simply log on to https://itunes.apple.com/us/app/twmagazineapp/id662035026?mt=8 or log on to www.TWMagazine.net.
Cover Credits
Story: Seyi Olanihun
Photography: Moussa Moussa
Outfits: Miss Majin/GM4FM
Jewellery: Pot of Gold Africa
Stylist: Amaka Onyenokwe
Makeup: MJ for Zaron
Hair: TJ