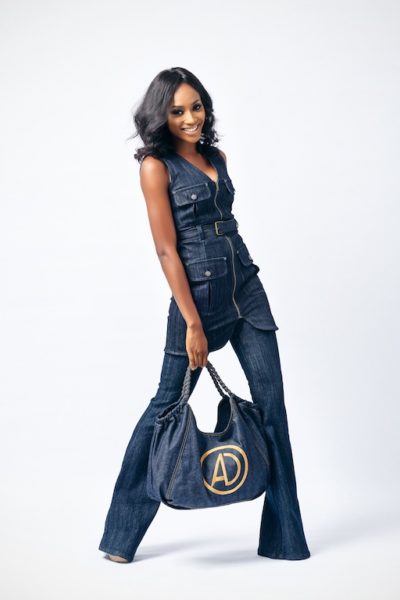 On the 10th fabulous day to 2014, BellaNaija gave to me – a fab boho bag and dress from AD by Agbani Darego!

We announced a fortnight of fab giveaways, and this is our tenth one! To learn more, click HERE! To see other giveaways, click HERE.
AD by Agbani Darego is a denim line by the fashionable first black African Miss World and supermodel – Agbani Darego.
CONDITIONS:
1. You or a representative must be able to pick up the outfit from a Lagos office.
2. You or your representative must be willing to take a photo for proof of receipt and a possible feature on the BellaNaija.com website, or social media.
TO WIN!
There is 1 easy step!
Answer this question in the comment section of this post –

Where's the AD by Agbani Darego showroom located? (hint:you might have to check out their website below!)
Now to the fashionable goodies!: Answer the question correctly and you could be the lucky winner of the AD Denim Hobo (first photo) and the AD Zipper Dress below.
Winner has a choice between getting the Zipper Dress in Khaki or in Denim. The Zipper Dress comes in three sizes Small | Medium | Large – Winner can choose preferred size.
Competition closes Sunday January 5th at midnight – winner will be chosen at random, and will be contacted via the email in the comments!
Hope your first weekend of 2014 is amazing!
***
Same dress in khaki or denim!
_________________________________________________________________________________________
To find out more about AD by Agbani Darego: http://agbanidarego.com/ad/ |
Twitter: @AD­_Jeans