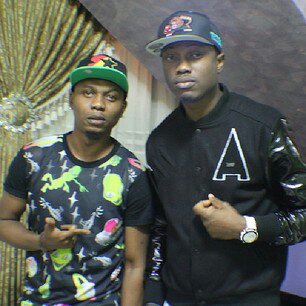 New year, new rules!
Rappers having 'beef' is almost synonymous with Hip-Hop as it dates back to its early beginnings.
But in recent times, the Hip-Hop community has taken a turn for peace and kept the 'beef' off the streets.
In Nigerian Hip-Hop, top notch Rap virtuosos Vector and Reminisce have exchanged their fair share of Diss tracks but decided to 'squash the beef' before the new year, 2014.
One might say it's the most unlikely of places but the two decided to settle their differences when they met up at teen sensation Mya K's album launch event in Uyo, Akwa Ibom on 30th December, 2013.
It's safe to say that the beef was overrated and we're glad it's over before it had a chance to escalate. It's great to see two hard working artistes trying to make their name in the industry, embrace peace this new year.
A confirmed report reaching us states that they'll be hopping in the studio within the next 2 weeks to work on a few tracks together with hit maker, Pheelz (of 'Durosoke' and 'Popular' fame).
Share your thoughts!
Photo Credit: Alore Agency