Young, passionate and driven. Those are words that can aptly be used to describe Orondaam Otto, the founder of Slum2School. 26 year old Orondaam Otto was tired of seeing the deprivation of children; so stirred by the passion in his heart, he started this project where he tries to place children without means, into schools. What was a pet project has now grown into a full scale volunteer driven organization.  In this edition of BN Making It! we take a trip into what it is to run a Non-Governmental Organization in Nigeria. Otto shares his dreams, and goals for this project that he is very passionate about. From life as a bank staff, this man now channels all his energy into giving meaning to other people through education. We really enjoyed this interview and we hope you do to. There's always room for positive change.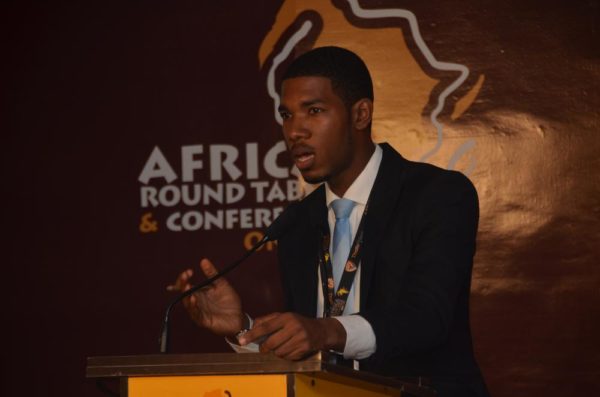 Tell us about yourself
My name is Orondaam Otto. It's quite funny that a lot of people call me Otto even though that's my surname. I think people love the easy way out. Anyway I'm Nigerian, I grew up in Nigeria and I love Nigeria. I am an easy going guy and I think I love to work. I am a little bit social but you will hardly find me always hanging out. I was born in 1987, had my primary, secondary and university education in Port Harcourt which is my home city. I had my 1st degree in Human Anatomy/Basic medical Science at the University of Port Harcourt, and in the last few years I have had taken a few degree courses including one recent one in Social Innovation from the United Nations University for peace in Costa Rica.
What did you do before Slum2School?
Before Slum2School I used to work in a bank. I was posted to the bank during my National Youth Service and I am glad because I think it helped me realise what I should have been doing.
What inspired your decision to start Slum2School?
Back in 2012, there was a period when everywhere I turned to I saw negative news about Nigeria and Africa. At work it was CNN and almost all I saw were children dying, African children out of school. One day I watched a report about education and found out that Nigeria had over 10 million out-of-school children. On my way to work and back I always saw children hawking and doing menial jobs on the street and it always bothered me. I tried to endure it until one evening, I was going across the 3rd mainland bridge and fortunately for me there was a huge traffic; I noticed the community sitting on the lagoon called Makoko. The traffic was slow so I succeeded in taking so many pictures but that wasn't enough.
As an adventurous guy I forced myself to visit and see for myself what happened in the smoking huts and to my greatest shock I was faced with the reality that I had watched for months. I saw thousands of innocent children without clothes littered everywhere; children who should be in school but were not. It was a sad reality and that day I made the decision to resign from the bank and try to solve some of their problems. And that was how Slum2School Africa started.
Tell us about Slum2School
Slum2School Africa has grown so fast. In less than two years we have grown from just a project to a movement driven by motivated, passionate and dynamic young individuals. Slum2School is a volunteer-driven organization and through several innovative and impact driven programmes, we achieve two things.
1. Provide access to education and psycho-social support for disadvantaged children in slums and remote communities.
2. Inspire young people to be the change and give them the perfect platform to volunteer in that process.
What is the scope of coverage of Slum2School?
Our goal is to penetrate all slums and remote communities in Nigeria and eventually Africa. We are currently building a very formidable structure and strategy to achieve that. We focus on four key programs – advocacy programs, scholarships programs, community support programs and school support programs. Each program has about 3 to 6 different projects.
Tell us some of the most challenging part of running the project
It has been so crazy going on a journey with little understanding of the challenges. It's quite an intense job. All eight core stages of our integral operational strategy have their unique challenges. You have to advocate, convince and even force some caregivers to allow their children go to school. You have to source for funds to support these children in schools and provide their needs. Imagine when you have 3 children in school, the challenges you face. In this case we have over 600 children and every week one of two are sick, some didn't attend school due to home challenges, others need to replace their uniforms etc and all these are issues that we need to respond to ensure that these children stay in school.
How did you overcome the challenge?
I think when God gives you a vision, he always makes provision. So I will say he has been the source and solution and He always overcome the challenges even before they arise.
Can you share some of the most heartfelt moments of being part of Slum2School?
I will answer it from two angles. Firstly they have been some moments when we go into the community and we feel so much love from the mothers, the elders pray and bless us continuously; and most fulfilling is when the children run after us hugging and singing "Education is my friend". There have been several cases where a child would have died and through us God keeps them alive.
Secondly I feel fulfilled when I hear news from some of our volunteers who got a job, invitation to international conferences, admission abroad or a recognition because of their impact through Slum2School. There have been dozens of such stories and many more to come.
How do you source support for the organization?
What sells us is our passion to solve a problem, our sacrifice to serve and our commitment to deliver above out targets. These attributes will always attract the right resources but we are not where we started and not close to where we plan to be. Slum2School started with personal savings, then support from friends and family who believed in the vision and decided to share the opportunity with other friends and family members. And today we have had over 1500 young volunteers from over 10 countries who have volunteered with us. We also have a few corporate organizations that have not only admired the impact of our work but are also willing to be long term partners.
How do you determine the beneficiaries of the goodwill of Slum2School?
We work with orphans and vulnerable children and we have standard selection criteria. We use internationally recognized vulnerability indicators. We have professional volunteers who are trained in that and they use baseline index assessments to ascertain the vulnerability of the beneficiaries.
Describe an average day in Orondaam's life
An average day in my life for now is 80% work and 20% fun. Most of the fun activities revolve around the community, the children, the team and the vision. Sometimes I wish otherwise and some friends try to woo me to hangout and party but the reason is simple, Slum2School is like a baby for us now, It has a potential to solve a huge challenge in Africa so it needs all the attention, care and commitment so we can build a solid foundation with a very great brand that will be sustainable.
What is that thing that keeps you going on all engines?
The burning passion to achieve our vision keeps me always motivated.
What is your vision for Slum2School?
The vision is way larger than me as an individual; everyone who is part of the organization today and even the organization itself. It's a vision that keeps me super motivated even in my dreams. We desire to see an Africa where every child is in a good school. We hope to see a Nigeria where everyone will be empowered to contribute to the society and not liabilities. We hope to build an Africa where foreigners will come to invest and not give peanuts as charity. If we do not give 10 million out-of-school Nigeria children access to education today, what kind of future do we plan to live in. A future where we will sleep with our both eyes open? We can't afford that. These children are humans like us and deserve the best.
What are your thoughts on the use of the media to promote charity causes? Do you see them as a means for 'showmanship' or a form of encouraging other people to join the cause?
One of our success tools has been the use of social media. It could be viewed as both but the truth is people always know when it is sincere and when it's for show. As an individual I wish to see more young people actively involved in social development because we can't always complain and criticize the government without adding value to the society. And social media is a tool that easily connects with thousands of people at a low cost and I think the more people hear about it, the more they will get involved. Imagine if we had 10,000 youth driven active organizations like Slum2School in Nigeria. Most of our challenges would have been reduced. And personally I am mentoring several young people who are already actively involved in social development.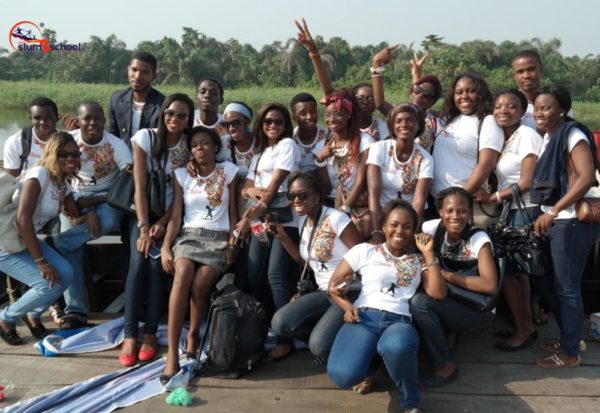 Accountability for charities is something that people take for granted. Do you have a framework in place to ensure that everything is done above the table?
Of course we have no option than to ensure that we are accountable to ourselves and then to our partners and stakeholders. This is one thing that has given Non-Profits a bad name, but when a vision is bigger than the founder, you will ensure that nothing goes wrong so it can be achieved. Right from inception we started with the right operational framework, we operated under another reputable and professional organization for guidance, accountability and management. Then as the founder, I reported directly to the Director of that organization and that lasted for one year till we got registered. Today, we have a very reputable board of trustees with about 10 individuals who are also respected. But the best form of check and balance lies within us as individuals. We need to be exemplary and it should reflect in all we do.
Running a charity seems to be a fad in Nigeria – everyone is getting into it. How would you say Slum2School and your vision is different and geared for change/impact?
It is a good thing to be charitable and I advise more people to get involved in the right way though. Like I said earlier, in Slum2School Africa we are not doing this because we are bored or in need of something to do. We are not super rich people that need somewhere to throw out some money. We are not just concerned about activity but productivity. We want to solve a problem and that's our goal. Our impact is what speaks for us and in less than two years we have received over 15 reputable national and international awards. Some include the Nigerian CSR Awards, Lagos State Honors Award as the most outstanding corps member in 2012, The Future Awards for two consecutive years 2012 and 2013, Nigerian Leadership Awards 2013, etc.
Those awards were never expected when I started this, but like I said let our intentions be sincere and focused on the social impact.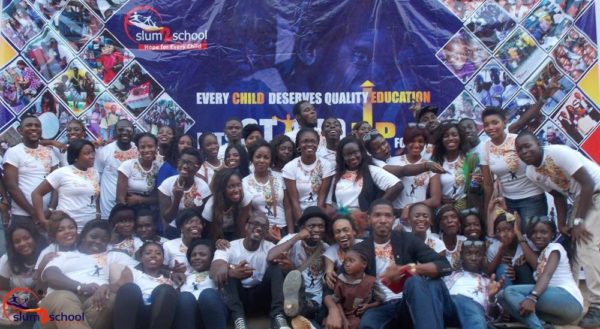 Are there any sustainable structures being put in place for the children who are beneficiaries of Slum2School?
There are. Sustainability is our major concern and so we do not just sponsor kids to school but ensure that the retention rate is high and their performance improves. We have very integrated strategies in ensuring effective monitoring and mentorship because what matters is that the children stay in school.
Where do you see Slum2School in 5 years?
In 5 years Slum2School would be the 1st choice across Africa when it concerns education for disadvantaged & vulnerable children and promotion of active citizenship for young people.
Let's relax a little
Which celebrity would you raid his wardrobe.
I'm a very simple guy and not a fan of fancy rainbow dressings. I love being moderately dressed and I love jacket. So I wouldn't mind raiding Obama's wardrobe. I love his suits.
What super power would you like to have?
The power to bring steady power supply to Nigeria.
If you had a genie's lamp, tell us your three wishes (No, a million wishes is not part of it)
That I was married with 3 beautiful children and a lovely wife.
That I had all the resources to help all the vulnerable children I meet weekly.
That Nigerians will learn to love themselves more, and stop being hateful, selfish and unite as one to build our nation.
Mention your 5 pet peeves.
I hardly get upset or pissed. Okay, here are some pet peeves.
You know when you ask someone a simple, straightforward question and they spend ten solid minutes rambling on about everything in the world except the answer to your straightforward question? It could be frustrating.
Also you turn on your phone only to see a message saying "I can't reach you, I have a question…please call me" but they don't just ask the question and you call and the person says. "I just wanted to ask how you are doing."
And finally people who honk in the middle of traffic expecting you to convert your car to a bird and fly.
Describe yourself in 5 words
Friendly. Empathetic. Optimistic. Loving. Innovative.
What would you not leave home without?
My manners.
What's currently playing on your music player?
Great Nation by Timi Dakolo
Thank you so much for talking to us Orondaam. We look forward to seeing more of your work in the near future. Best wishes to all the Slum2School volunteers, from the BellaNaija team.