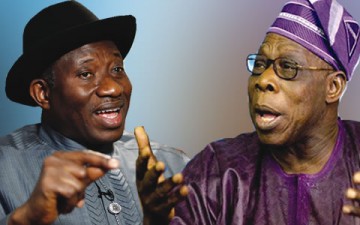 It seems GEJ will let bygones be bygones soon.
Yesterday Sunday 5th January 2014, the Presidency revealed that President Goodluck Ebele Jonathan was willing to mend issues with the former Head of States Olusegun Obasanjo.
In case you missed it, the clash between two of the most powerful men in Nigerian politics today began when OBJ sent GEJ an 18-page letter highlighting his how he plans to destroy the nation – click here to read.
Days later, the President  replied Obasanjo – click here to read.
Punch reports that Ahmed Gulak (Special Adviser to the President on Political Matters), revealed exclusively that the feud between GEJ and OBJ was adding worries of the leadership of the Peoples Democratic Party (PDP).
Gulak, who also says he wasn't aware of the rumoured reconciliation, said it was a step in the right direction.
"We are not aware of the reconciliation moves but there is nothing wrong with it. In fact, it is a good development because our party, the PDP, is always open to reconciliation.

Only God is perfect. If in the wisdom of the nation's elders, there is a need for reconciliation, there is no problem.

Let me assure you however that President Jonathan has nothing against Chief Obasanjo. He considers the former President as a leader and a father, that is why he calls him Baba.

President Jonathan has highest respect for Chief Obasanjo. The recent exchange of letters does not mean that he does not hold the former President in high esteem.

Nobody is perfect. No leader is perfect, it is only God that is perfect. There is no alternative to peace in the country and in our party." he stated.
Tunde Oladunjoye, a media aide to Olusegun Obasanho also revealed he wasn't aware of the move to reconcile the leaders.
"Baba did not write that letter as an enemy. He said he wrote the letter as part of his duties to his political godson, the PDP and the nation.
I can tell you without any fear of contradiction that Baba is not at war with anybody, including the President. That is why when the President wrote his own letter, Baba said he had no comment to make."