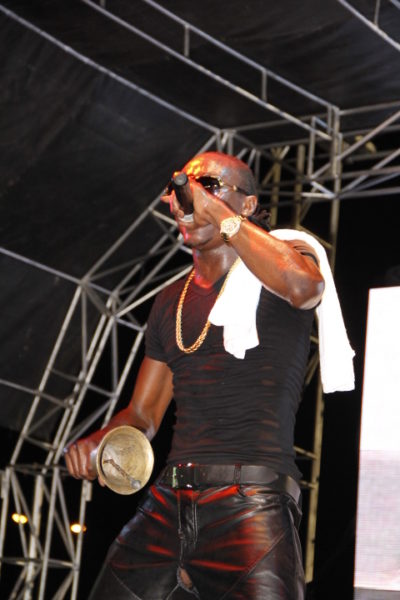 Terry G is shutting down rumours that he was injured when he recently took to the stage to perform.
The Nigerian music star was billed to perform alongside Ice Prince and J Martins at the IBB Square, Malkurdi, Benue for a show.
After Ice Prince wowed the crowd, it was time for the always energized performer to rock the stage.
According to his publicist, after he performed his songs – Free Madness and Akpako Bombom, the anxious fans at the event were already crossing the barricade erected by the security officials.
But by the time he delivered a fan favourite – Halleluyah, his overzealous fans who clearly love him as an indigene of the state, trooped to the stage and efforts by the security personnel to push them back resulted in a very physical protest.
While the security continued to hit the protesting crowd, they responded by throwing objects back at them. This immediately prompted organizers of the event, to move Terry G, his crew and the other artistes from the scene.
Due to this, J Martins couldn't perform.
"It is simply impossible for my fans, not even in my state where I'm being treated like a King to throw stones at me or chase me out of the stage, it's not realistic. The problem was purely between the security guys and the audience, but for security reasons, I and the other artistes have to be taken out of the scene. Whoever is spreading the rumour that I was stoned is simply ignorant of what happened." Terry G revealed in a statement to BellaNaija.com