Salut a Toutes!
Finally this day where everything looks like Christmas without the green and love is spread but not everywhere. For those with 'love' or a "boo", I guess your biggest preoccupation should be that you are amongst the gift receivers and not a roaster!
For this Valentine's edition, I want the MEN to impress their Valentines. I know most women like it when their man whips up something and treats them like a princess. So, ladies, if your man isn't a BellaNaija reader, kindly share this link with him.
For this special post, I have asked myself, what is it about food and love? To answer this, I have crafted the perfect valentine recipe paired with Moët & Chandon.
This is literally love in a dish people! And there's more…whoever can cook at least one of the courses and sends in a photo of the dish and the couple at dinner stands a chance to win a unique-Rose Pink Limited edition bottle of Moët & Chandon.
This simple 4-course menu is testament to that 'ol saying "Food is symbolic of love when words are inadequate". My idea for the menu was what I thought love between two people could be. Get ready for a spicy, steamy, luxurious and gooey celebration of love yet.
I have paired this menu with two types of champagne; the love season's champagne of choice. The Rosé Impérial has been paired with the starter and main course because it pairs well with simple, intense and colourful flavours. The Nectar Impérial Rosé which is sweeter has been paired with the desert because it complements sweet, sweet and salty/ sweet and sour flavours.
Starter
Lobster Salad with Roasted Strawberry and Basil Champagne Dressing
(paired with Moet & Chandon Rosé Impérial)
What You Need
250g Lobster Tail Meat or King prawns
2 tablespoons salt
3 teaspoons mixed peppercorns/ black peppercorns
1 small spring of celery
Water to poach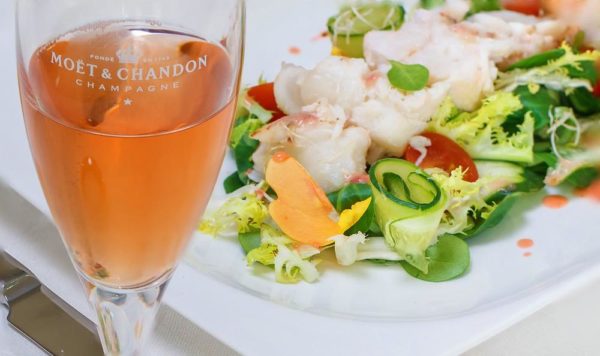 Salad
Mixed salad leaves (Use whatever you can find My recommendation is below)
1 bag Machè (Watercress)
2 Seedless cucumbers
10 Cherry tomatoes
Frisee Lettuce
Dressing
6 large or 8 medium sized strawberries
230ml Olive Oil
90ml Raspberry or White Wine Vinegar (use 60ml regular white vinegar if you don't have or can't get the recommended)
6-8 basil leaves
Pinch sugar
Salt and black pepper to taste
How To
Place enough water in a pot to come to a boil. Place the lobster tail in along with the seasonings and celery and reduce to a low heat to allow it poach/simmer gently for 8 minutes or till the shell has turned a nice orange or red colour. Turn off the heat and allow the tails rest in the liquor for another 2mins. I f you get a really big lobster tail you may need to poach for a little longer. Take the tails out and plunge into ice cold water to allow cool rapidly but do not leave in for too long.
Drain the water place a napkin in one hand placing the tail on it and with the back of a heavy spoon, crack the shell and carefully remove the shell form the body. Be every careful here as the lobster shell is quite hard and can cut one easily hence the use of a kitchen cloth/napkin. Also, remove the thin black thread from the bottom part of the lobster. That's the digestive tract you do not want to eat.
Wrap the lobster in cling film and place in the fridge to remain cool.
To make the dressing, heat up a pan and throw in the strawberries with 2 teaspoons of olive oil. Move them around and allow the berries to char slightly. Do so for about 1 minute and take out of the pan and place win a blender with the remaining ingredients (I see a hand blender here though)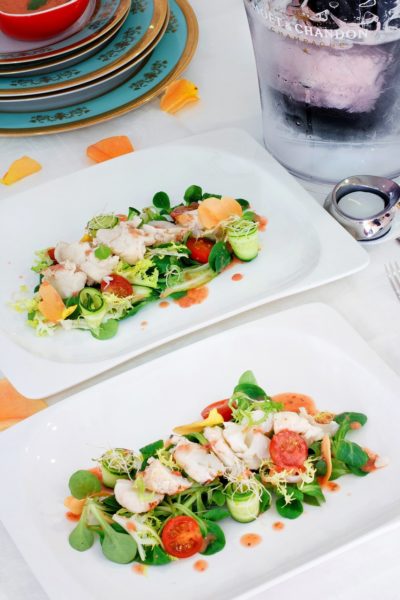 To serve, mix the salad leaves (you must have washed) in bowl then arrange nicely between two plates slice the lobster into rounds and place on top of the salad and drizzle the dressing over the salad and have some handy by the side.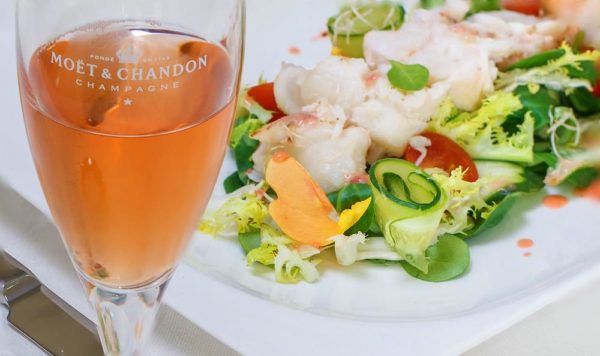 Main Course
Red Curry Chicken with Radish salad & sugar snap peas with Saffron mashed potatoes.
What You Need
Chicken
2 large chicken laps (Thigh and Leg together)
2 1/2 tablespoons Thai Red Curry Paste
200ml coconut cream or milk (preferably cream)
1 stick lemongrass bashed and finely chopped
2 tablespoons coconut oil or vegetable oil
1/2 can baby corn
100g mangetout peas/sugar snap peas
Red Radish, Watercress and Coriander for garnish
Potato Mash
200g Floury Potatoes
Pinch Saffron Strands (soaked in warm water for a min) or Pinch Saffron Powder
1/2 cup cream
1 knob butter
How To
Start by cutting the chicken into two – leg and thigh. For the leg/drumstick scrape the skin and flesh from the bone down towards the meat to reveal the bone so it looks nice for presentation. Then de-bone the thigh meat. If this sounds to stressful just ask the butcher to help you out. Marinade the chicken with 3/4 tablespoons of the paste with a pinch of the lemongrass. Do so for a minimum of 20 minutes.
While the chicken is marinating, place the potatoes in pot with the salt to taste, wand water. Boil till very tender. Drain and pass through fine sieve add the cream saffron and butter mix through well on medium heat, when it well mixed place to one side and keep warm.
In a pan add the coconut oil then add the chicken pieces and brown on one side, flip over then add the curry paste and fry till fragrant (it's quite spicy so you may cough bait nothing to fear though). Throw in the coconut cream or milk at this point. Add the rest of the lemongrass and a splash of water and leave to simmer covered for about 12-15 minutes till the chicken is cooked through. It is important you do this on simmering heat a rapid boil would evaporate the sauce too quickly and the chicken would be raw in the middle after 15 minutes.


To Serve
place a spoon of the mash place the leg next to it, arrange the tight meat which you can cut into two pieces. garnish with the radish, mache (watercress) and coriander. Spoon over the hot curry over the chicken and present to the lover.
The Rosé Impérial pairs well here as it complements the spiciness of the curry.
Desert
White Chocolate Lemon Creameux with Meringue Dust, Vanilla Wafers & Raspberry Coulis – paired with Moet & Chandon Nectar Impérial Rosé.
What You Need
100g bar white chocolate chopped into small bits
185ml cup heavy cream
100ml cup whole milk
1 tablespoon sugar
1.5 teaspoons lemon zest or lemon essence
4 egg yolks
Pinch salt
1/2 teaspoon cornflour mixed with 1 tablespoon of water.
To Garnish
Raspberries, blueberries or whatever berries you have.
You'll need 4 ramekins or custard cups or oven proof ceramic cups as well.
How To
Place the white chocolate in a medium bowl and put to one side. In a small saucepan/pot, add the cream and milk and heat until its scalding hot but not boiling. Take the mixture and pour over the the white chocolate and stir until smooth. In another bowl, whisk the egg yolks, sugar, lemon zest/essence, cornflour mixture and salt together until smooth. Slowly whisk the cream mixture into the egg mixture until smooth and mix over a low heat and allow thicken slightly. Ladle the custard into the ramekins or cups. Arrange the ramekins in an 8 by 8-inch square baking dish. Pour enough hot water in the baking dish to come halfway up the sides of the ramekins. Bake for 30 minutes until the custard is almost set and still slightly soft in the centre (custard will set as it cools). Let the ramekins cool for 30 minutes in the baking dish. Remove the ramekins from the water and refrigerate for 3 hours or up to 1 day. If you're too lazy to bake this, You really can just place it in the freezer and allow it set.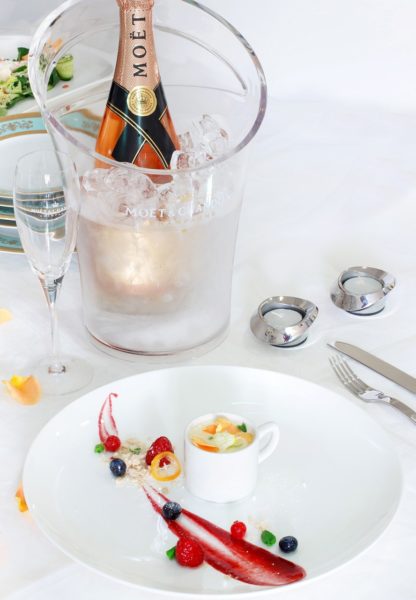 To serve spoon some raspberry coulis (shop bought is fine) or strawberry syrup on the plate and crush some vanilla wafers and place a few berries round the plate. The sweetness of the Nectar Impérial Rosé is perfect with the lemon, white chocolate and berries.
Ladies and Gentlemen, this is it… guys please give your "boos" this good, good cooking. This is perfect for all of you that are still in the 'toasting' process as well after this she has to say yes!
So my dear BN Cuisine Fam; Guys especially, remember you have an opportunity to win this unique Rose Pink Limited-Edition Bottle courtesy of Moet & Chandon. All you need to do is cook any of these dishes, plate it nicely, take a good photo of the dish and send to features(at)bellanaija(dot)com with subject 'CHEF FREGZ MOËT&CHANDON CHALLENGE.'
Special thanks to Mrs Sola Obakoya of Schiffini Nigeria (Kitchens & Accesories) for giving us a space to work for this shoot.
Another huge thank you to my friend and talented photographer, Adebayo Rotilu of Twelve05 Photography. The food is brilliantly captured because of you.
P:S I'm doing some Valentine giveaways on Instagram follow @chef_fregz e fit be you o!
Love, Truffle, and Happiness, people!
XO