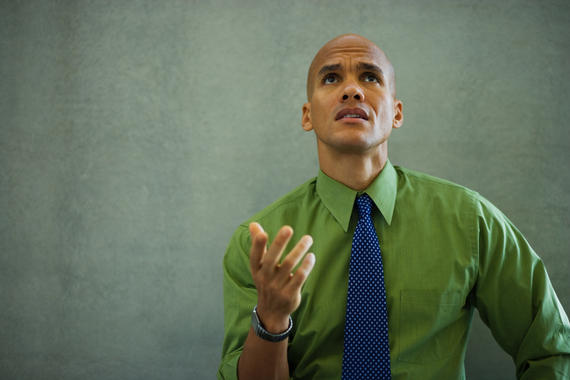 My idea of charity in Nigeria is somewhat pathetic. Of course there are the great causes that are currently in fashion, like cancer and orphans. And then there's 234 Give, a website that makes it easier to give to any charity of your choice. They even say that they audit the process to ensure that your hard earned money doesn't disappear or end up in a pair of Louboutins, or a first class ticket to Hotlanta.
But what of the others? The beggars we see on the street, the ones that are obviously so desperately in need, how do we treat them? I don't mean the ones that carry the deaf and dumb sign around with them, because a friend of mine once saw one of them holler for a recharge card man with a clear tenor. I don't mean the ones that come around when you're at a bus stop or at the cinema, with some tale of woe, about how they need to get back to their village because their father's sick and dying, but someone stole their ticket, and the money for the hospital bill. I got taken in by one of those ones once. I was 14 and my allowance had just come in. I gave him five thousand Naira, which was nearly all the money I had on me. When I saw him working the same corner the next week with the same story, I felt beyond daft. Since then I've treated beggars like I treat the 419 emails in my inbox. I ignore them with disdain and a fine barely concealed anger.
Sometimes, I have money lying about the car. It's never anything much. It's money that I need for parking, or the toll gate – living in Lekki is expensive for a youth corper- or gala. Yes, gala. I'm hooked on the stuff. It isn't rational, and it probably isn't healthy but you only live once right? And they come around my window saying, "Uncle, uncle, God will bless you." That's the only bit I hear to be honest. All the rest is concealed by mumbling and my idgaf (i don't give a flying catamaran) disposition where they are concerned. But is it not wicked? They see that fifty naira just lying there, but then they see me too, doing my best to ignore them, turning the music up, dancing in spite of their suffering. I would never have reconsidered my position on beggars if I hadn't been turned into one for the briefest spell.
I work now. As per usual I won't tell you where I work, but it's a part of my year of National Service, so you know it's probably in a school somewhere, or in a local government office, or in the Lagos State Secretariat, or I could be one of the people that fixed it so I could go and do another more relevant job. All of that is by the way. On the day in question I was later than I had any right to be. I sprinted out of my house with my toll gate money, and only my tollgate money and hopped into the gas guzzling Tokunbo that's been bestowed on me. I'm grateful that I have a car and all, but when the car in question goes from full to empty in three days or less, it becomes more necessary evil than blessing.
Work was alright that day. I didn't do a lot. I finished the novel I was reading and started another. The real drama started when I decided I would go for a little bit of a drive at lunch time. I pushed my key into the ignition and turned. It didn't start. I couldn't believe it. I tried it again, but it was all lights and no action. I tried starting the car for an hour, while mood swinging like a pubescent girl on her period. I was depressed, frustrated, lethally annoyed, and exasperated. I alternated between cool, calm and rational and raving lunatic. One moment I'd be looking sheepishly into the distance and the next I'd be cat fighting with the steering wheel. I had no money, no credit, and my phone battery was desperately low. Somewhere in the middle of that, I realised that it could be the battery.
Papa Afam, had been borrowing the battery for his much larger vehicle for a while before I started driving the tokunbo. So it was possible that he'd damaged it somehow. I shut the door, and strolled down the road. There was a mechanic shop about 500 metres away from where I was parked. This was lucky, but I knew my chances for receiving any sort of help were next to nothing. They would hear my affected accent proclaim my lack of money and they would laugh in my face. I was determined to beg them in the name of God, Sango, or any other deity required. I was prepared to laugh, cry, flatter, and roll on the floor, but all of that was unnecessary. I explained my dire position to Mr. Sabichi, the battery man from Osun state, and after a bit of thought, he gathered his materials and made his way towards my car. I carried the heavy battery he was going to use to jump start mine for most of the way, but the startling thing was that he was prepared to carry it the whole way.
This got me thinking about charity, and generosity, because the way I see it I got more than I deserved that day. He should have ignored me, and left me there. That's probably what I'd have done but he didn't. This is the sort of thing that calls for an attitude adjustment. I met a better man than I, who is lower in the world than I, and I am a better man for it. I'm not going to make any big calls about my improved disposition to helping my brothers and sisters in need. For now, I'm content with my new found awareness that I've been too cynical in my dealings with people in general.
Photo Credit: dotheknowledge.com
_______________________________________________________________________________________________
Afam is the 23 year old man-child behind the blog: http://theramblingsofamadman-afam.com. Follow him on Twitter https://twitter.com/Afam20.