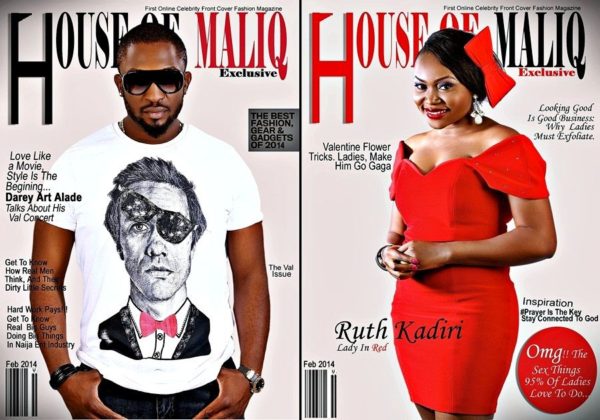 Darey Art-Alade keeps it funky while Ruth Kadiri sizzles in red.
The Nigerian music star and actress cover the Valentine's issue of online magazine – House of Maliq.
Darey dishes on a variety of topics including his favourite colours on women, fashion trends that girls rock that are confusing and his upcoming show. Ruth Kadiri also speaks on her career, love for male wrist watches and sunglasses.
On the colour he loves best on a woman: "None in particular. I think that depends on what makes her feel confident and helps her exude her natural beauty… but I know my sweetheart's one…*winks*"
On fashion trends that confuse him: "The need to follow the trend actually. why do a lot of ladies have to copy and paste? mobile phones, Brazilian weaves and phones leaves me confused..lol"
On Love Like a Movie II: "The thought process is ridiculously rigorous. many people work behind the scenes at Live-Spot Productions. The theme is simply love…but then, love is not straightforward. it's dramatic, confusing, overwhelming and sweet so we decide to use music to represent those emotions and infuse elements of theatre, songs, amazing lights, high definition 3D projections and graphics, well rehearsed routines and aerial acts who hang mid air some 90m in the sky. The set is actually dual stage so we pretty much have a stage in the ground and another in the air above…that is what you call a love roller coaster…love like a movie 2!!!!"
On  expectations: "I am very happy that I will be releasing new music even at the concert. my team and I are working on music videos also…special fever is doing great and people have told me how much they love Asiko which features Jozi and Ice Prince. I do hope they will enjoy the new ones that drop any moment from now…"
Credits
Darey Art-Alade
Photography: Dazzle Photos
Stylist: Jeremiah Ogbodo of Swanky Signatures Styling
Outfits: Swanky Signatures
Trad Look: Yomi Casual
Accessories: Swanky Signatures
Makeup: Omalicha Nwayioma Makeovers
Creative Director: Malik Zenishia Zainab
Graphics: Malik Zenishia Zainab /John x (nett)
Co-ordinator: Singer Azeezat
Ruth Kadiri
Photography: Dazzle Photos
Stylist: Jeremiah Ogbodo of Swanky Signatures Styling
Outfits: Floral Net dress, Animal print jacket – Swanky Signatures
Black Dress: Vonne couture
Red Dress: Signora
Accessories: Swanky Signatures
Makeup: Omalicha Nwayioma Makeovers
Creative Director: Malik Zenishia Zainab
Graphics: Malik Zenishia Zainab /John x (nett)
Co-ordinator: Singer Azeezat