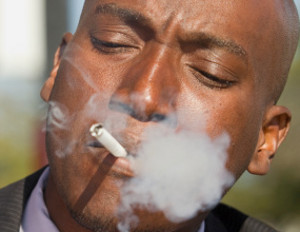 In January 2014, BN reported that legislators in Lagos state have passed a bill banning smoking in public places. (click here to read)
The legislators were waiting for Governor Babatunde Raji Fashola to sign the bill into law for all logistics to be put in place.
BRF signed the bill into law at the Lagos House, Ikeja. He is optimistic that the law would further strengthen the State Government's commitment towards protecting lives of citizens.
The bill prohibits smoking in areas which are designated as non-smoking areas, including libraries, museums, nurseries, day care centers, public toilets and facilities with infants.
Offenders face up to 3 years in jail. Owners of public spaces (clubs, restaurants etc..) will have to ensure no-smoking signs are properly displayed. The fine is  N100,320 or 6 months in prison.
Photo Credit: blackenterprise.com