Radio personality Hauwa Mukan and International Soul Star Keziah Jones were a couple we loved. With their unique style and all that sweet stuff.
Sadly it has been confirmed that the couple has officially split.
All recent indications point to a breakup of the couple's 2 year marriage. The recent actions of Hauwa and Keziah who wed in Lagos on the 14th of January 2012 have sparked rumours of their separation. It started with a radio interview which the soul musician gave a few weeks ago, when asked about his wife, he simply chuckled in response even after being probed by the interviewer, made no mention of his wife. This is in contrast with previous interviews where he spoke enthusiastically about his sweetheart.
Keziah was also spotted at various art and music related events in Lagos during the festive season and each time, Hauwa was not with him despite being present in Lagos. A browse through the Paris-based musician's instagram page also revealed no photos of his wife since July 2013. Hauwa on the other hand was seen at Genevieve Magazine & Veuve Clicquot's "Fashion & Style Day Out" conspicuously without her wedding ring. BN photographers noted that Hauwa looked "sad" and despite being beautifully dressed, noted her reluctance to pose for any press photos.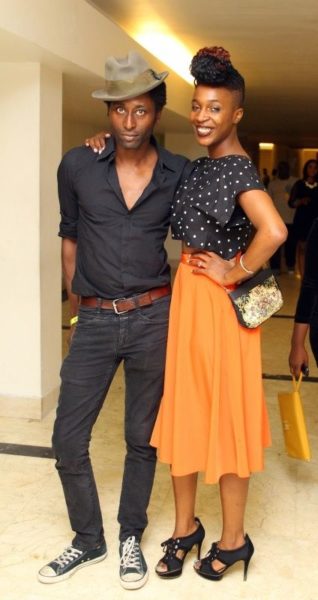 It is being speculated that the vast 18 year age difference between the couple – Keziah is 46 while Hauwa is 28 as well their long distance marriage might be the cause of the breakup.
Sources close to the couple have confirmed the breakup. However, no official statement is being released for now.
Keziah Jones who recently released a new critically-acclaimed album "Captain Rugged" is currently in Japan for a show, after that he will embark on a multi-city European tour which kicks off in March 2014 while Hauwa has just been announced as the Fashion Editor of the Nigerian-edition of international magazine PRIDE.
Photo Credit: Kelechi Amadi-Obi | Insigna Media