You know when you meet someone and connect instantly? When you don't see that person for a while but they linger in your mind?
Chiamaka & Ikenna's wedding story is one of those – they met once and connected, the feelings lingered and when they started talking years later, there was no question it was simply meant to be…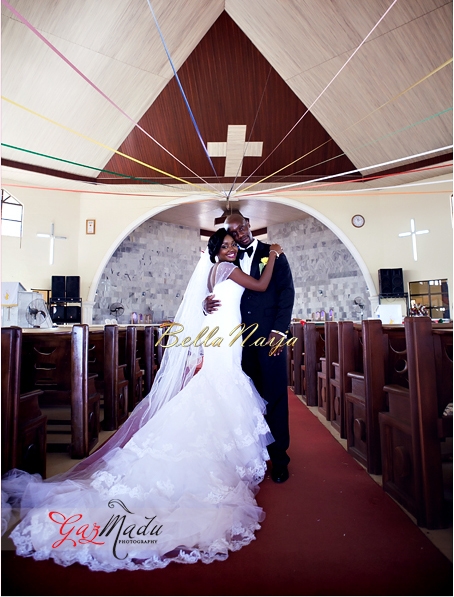 Chiamaka met Ikenna at his sister's wedding in 2008. They talked all night about Obama-mania before going their separate ways. 4 years later Chiamaka was praying for the right kind of man she could have and hold – The One ordained for her. At the same time, Ikenna was looking through his sister's wedding album then he saw the woman who captivated him that day. Ikenna sent Chiamaka a Facebook message. And the rest, as they say is history.
The beautiful faith-filled couple tied the knot in December. Here's their wedding story …
How We Met
Ikenna's Version
I first met Chiamaka in September 2008 at my sister's wedding. We happened to be sitting on the same table. Her smiles and beauty immediately caught my attention. We started chatting immediately and talked for hours about everything from love, politics, sports to Obama's election. It was love at first sight. The chemistry was instant. But for some reason, I didn't get her number and travelled back almost immediately.
Four years later, I was going through my sister's wedding album and saw Chiamaka's picture. I asked my sister for her contact info and buzzed her immediately. From then onwards, we talked and chatted everyday for hours. Our love blossomed from there and we dated for a little while before I asked her to marry me.
From Chiamaka's eyes …
I first met Ikenna in 2008 in his sister's wedding. We were seated on the same table, and we had a long conversation with me dominating the talk. It was the first about Obama election and I had the Obama bug then. Here I was with a potential voter and he tells me he is voting Republican. I campaigned and campaigned. I left the event feeling like I wasn't just an Obama TV fan, I just got him a vote. Meanwhile in school, I kept on telling my friends on how I met one really smart guy. By the end of the week, they were teasing me that this was turning to a crush. Actually it wasn't then, I just had a good impression. Fast forward to 2012 – I was 25 and in my book of goals, I'm supposed to be engaged at 25, yet I was single and meeting men who didn't appeal to me at all. I had to start praying to Jesus Christ for my own husband, I had this long list of qualities that I prayed to God about. One day Ikenna sends me a Facebook message out of the blues. We went back and forth on Facebook messenger for two days, then I gave him my number after a brief shakara.We hit it off like the four years never happened and continued our banter. We were glued to the phone all night, everyday. We were like two intellectual kindred spirits. Before the month was over I just knew I had to marry Ikenna. You might Ask why?;I know a woman is supposed to submit to her man and I knew that was a part that will be tough for me. Ikenna was it; Wise, gentle and smart, all these made it easier for me to be submissive. He loves me in ways I never knew I should be loved, he was exactly what I needed but I never knew. He visited a couple of times and those visits were simply sweet. The rest is history !
The Proposal
By Chiamaka 
Ikenna had been in town for one week. I had just concluded NYSC a few days before and came home to Onitsha to rest. Every morning, I would meet him up at his hotel and we will spend the whole day together. On April 4th 2013 morning, I came in and Ikenna was fully dressed up like he was going out (normally, I always meet him still sleeping). He was fidgeting, pacing up and down the room, I was wondering why he seemed so tense.
Then we had breakfast and once the meal was over, Ikenna got down on both knees and asked me to please marry him, I said Yes without any hesitation. He was soooooo emotional but I was laughing mischievously in my head because I had made peace with the fact long ago that we would be married. He gave me a ring made of paper and ducttape, it was actually cute.
December 27th 2013 – I went to pick Ikenna at the airport and he asked me again to marry him, this time with The Perfect Ring.
By Ikenna, the groom
I always wanted a quiet proposal. We spent a week in the East together and I proposed to her towards the end of our stay. It was the best day of my life and easily the best decision I've ever made.
Love from the bride and groom – Advice for the Big Day!
Set your mind out to enjoy every minute of the day because this is done once in a life time!
***
At the igba nkwu (wine carrying), the bride wore three outfits for the roles she had to play in the traditional wedding. The first was to greet and welcome the guests, the second was to look for the one she loves and offer him palm wine, where acceptance of the drink means they have both consented to the marriage, before asking for blessings from her father. The last outfit the bride and groom wore matched, signifying to everyone that the lovebirds are now Man and Wife.
The white wedding was a dreamy affair in the bride's home state of Anambra. Chiamaka bought a dress online that she chose with her best friend.
Hear from the bride about her unforgettable moments –
1.Walking down the aisle with my father AND REALIZING HE MADE ME WHO I AM.

2. I always wanted a particular Priest to officiate my church wedding ceremony but by my wedding, he had retired about 3 years before. Also my wedding wasn't in my home church where I grew up, so I was just going with the flow. On walking down the aisle, up at the vestry was our retired bishop – Bishop Ken Okeke, my parents had invited him for the wedding and being the topmost in the hierarchy present, he was asked to officiate. I was so moved, I kept pinching Ikenna and telling him "that's the priest I keep telling you about". He gave our vows a whole new meaning and when he blessed us, it felt special.

3. Marrying Ikenna 🙂
Both weddings were planned by the bride and beautifully captured by Yagazie Madu of Gazmadu Photography.
BellaNaija Weddings prays Chiamaka & Ikenna have a blessed and beautiful home.
***
~ Photography: GazMadu Photography
White Wedding
Traditional Wedding
Photography: GazMadu Photography – www.gazmadu.com/blog | www.facebook.com/GazMaduPhotography | (+234) 815 103 0205 | gazmaduphotography (at) gmail.com
Wedding Details
Wedding Dates
Traditional: 28 December 2013
White: 2nd January 2014
Wedding Venues
Traditional: Bride"s Family Home, Uke, Anambra State.
Church: Church of Pentecost Anglican Church, Awka. Reception: The Events Centre, Marble Arch, Awka
Wedding Colours
Traditional: Light Pink and Purple
White Wedding: Jade, Sunflower Yellow and Turquoise Blue
Wedding Attire
Make Up and Hair Styling: Dave Sucre
Traditional
Fabrics for Traditional wedding: Mrs Ejeson
Gold Jewelry for Traditional Wedding: Vintage, gift from Bride's mum
Traditional Wedding Shoes and Purse: Verde Acqua, Italy
White
Wedding Dress: Tenille by Sottero and Midgley
Reception Dress: Jd7 Designs by Data Okorodudu
Jewelry for White Wedding: Porsche Designs by Epolulot
Bouquet: Dr Mrs Njeze in Enugu – [email protected]
White Wedding shoes: Vera Pelle, Italy
Groom's Wedding Suit: Ludlow Tuxedo Jacket in Italian Wool
Groom's Shoes: Melan Concerto Oxford
Bridesmaid Dresses: David's Bridal
Shoes: Anne Michelle
Groomsmen Ties: Dessy Group
Vendors
Wedding Cake: Splendid Place Enugu
Traditional Wedding Decor: Azory Cynosure – azorycynosure (at) yahoo.com
Invitations: Deluxe Media – hankyjay (at) gmail.com
MC: Dr Dan Gbujie
Catering: Madam Ezue's
________________________________________________________________________________
We love weddings as much as you do – get in touch for inquiries, inspiration & more!
E-mail: weddings (at) bellanaija.com | E-mail for #AsoEbiBella: asoebibella (at) gmail.com