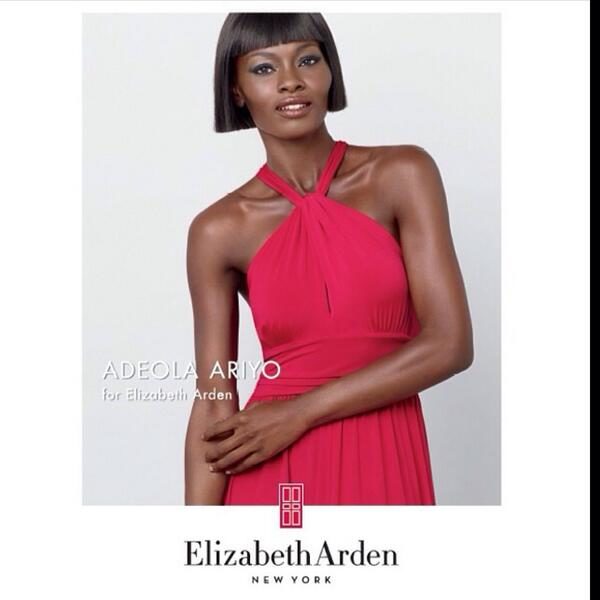 Great news Africa. On Thursday 13th February 2014, Nigerian model Adeola Ariyo was selected as the first ever African Ambassador for Beauty company Elizabeth Arden. The 28 year old will be taking over the duties of the Elizabeth Arden South African Ambassador Lerato Moloi, whose reign centered only in South Africa.
Listed among her new job description would be featuring in Elizabeth Arden's campaigns for Skin Illuminating, Visible Difference and Perfectly Nude SPF15, all while she is under the mentorship of Lerato Moloi.
At a the special announcement event which took place at Krammerville, Sandton, South Africa, Adeola was joined by Lerato and the Elizabeth Arden team.
Managing director of the brand, Corne Nel said the brand is committed to the belief that "To be beautiful is the birthright of every woman" . "As a company we want to celebrate each woman's unique beauty through individuality, diversity and original expressions of beauty". "Adeola has all of these qualities and as a prestige beauty brand we wanted to choose a spokesperson that African women could identify with" he added.
Born in Lagos to a Nigerian mother and Ghanaian father, Adeola started her modelling career at the age of 13. She has since been on the runway for shows like the London Fashion Week, Arise Fashion Week, Lagos, Johannesburg Fashion Week and Cape Town Fashion Week. She also participated in the 2005 running of Face of Africa where she was part of the top 5 finalists and has featured in Marie Claire, Elle, True Love and Glamour Magazines.
"Being chosen as an Elizabeth Arden Brand Ambassador in Africa is an incredible honour." says Ariyo. "Elizabeth Arden herself was an entrepreneur, women's advocate and a champion for holistic beauty, inspiring women all over the world. I am proud to be associated with a brand that embodies such important values".
Elizabeth Arden has already expanded to Angola, Zimbabwe and Mozambique and this year will be moving to Nigeria, Kenya and other Sub-Saharan African countries.
In a recent interview with CNBC Africa, Adeola and Elizabeth Arden Africa Managing Director Corne Nel discussed their venture further into African markets. Watch!
Watch Adeola's interview with CNBC Africa

Photo Credit: Blogs.timeslive.co.za | Video Credit: www.cnbcafrica.com