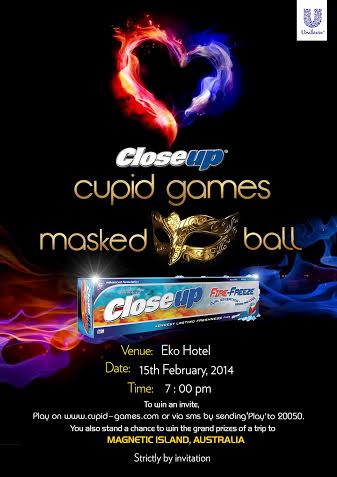 Which 5 couples will win the romantic getaway to Magnetic Island, Australia?
Cupid is almost ready to hit its target. Are you ready? In a couple of hours, the Closeup Cupid Games Masked Valentine Ball will be going down Live in Lagos and will have some of your favourite faces there. Hosting will be the funny man himself Bovi, and performing great songs will be EME Records representatives, Banky W and Niyola.
Couples will be coming with their masks, so there will be plenty of suspense and intrigue as the couples try to find out their partners. Aside from the musical performances, there will be games and lots of fun activities for the couples to do.
For live updates as the Ball is going on, check out the Cupid Games Facebook page: www.facebook.com/closeupng or Follow/Use the Hashtag: #CupidGamesMaskedBall on Twitter. Also check out their Facebook page for more information on tickets and updates on Cupid Games.
Pictures from the Ball will be coming soon, so watch this space and see you there.
__________________________________________________________________________________________
Sponsored Content