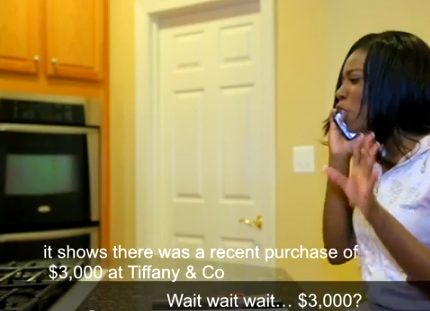 How far into debt can you go for a proposal?! Will you make your girlfriend pay for an engagement ring?
We got this video from Olu of LynksDrivers Productions, who makes wedding videos for Nigerian couples in the US. See his BN Weddings Videos HERE!
Today he's brought us something different which we think will be a great way to start a conversation about money before marriage. We think the acting and script in the video could have been better, but the message really got us thinking.
Synopsis: Deola and Lanre have been dating for a while and Lanre felt it was time to take things to the next level – the proposal! Things go awry when Deola found out Lanre bought her engagement ring with her credit card.
So let's talk about it!
Is it okay to buy an engagement ring with a credit card i.e. going into debt because of a ring?
Is it proper for a guy to propose with an engagement ring purchased with the funds of the lady?
Is it okay for a partners to use each other's credit cards without permission? At what point will it be considered fraud?
Watch!
Videographer: Olu Adewunmi | lynksdrivers.com | instagram.com/lynksdrivers | admin (at) lynksdrivers.com
________________________________________________________________________________
We love weddings as much as you do – get in touch for inquiries, inspiration & more!
E-mail: weddings (at) bellanaija.com | E-mail for #AsoEbiBella: asoebibella (at) gmail.com