Hey BN Beauty Belles! We are proud to introduce another amazing Makeup Artist, Stella Maris of Stella's Addiction. For her "Get This Look" feature, she will be recreating different makeup looks from local and International acts as well as famous photos to help you recreate the looks you've all come to know and love.
For her first feature, we have the fabulous Kelly Rowland in her Kisses Down Low video. If you have seen the video, you know that it is a bevy of makeup inspiration and here, Stella will be recreating one of our favourite looks from the video – the pin-up look.
Featuring a beautifully highlighted face, white water line, winged eyeliner, fab lashes and bold red lips, press play to find out how Stella recreates the look and how you can too.
Unlike the traditional pin-up, Kelly's sports a blue outer corner and crease as opposed to the usual brown/black. The rest of the look stays true to form; bright red lips, winged liner, lashes and an extended eye lid.
Products Used
Face
RCMA Foundation
MaqPro Dark brown cream pigment
Ben Nye Banana Powder*
Sleek Makeup Face Form (Dark shade for contour)
Sleek Makeup Translucent Pressed Powder*
Fashion Fair blush in Plum Riche
Eyes
OFRA Cosmetics Semi Permanent Brow Gel in Light Brown*
Peggy Sage Paris Eye Shadow primer *
Sleek Makeup DipIt eye liner in Black*
White Eyeliner (purchased years ago at a train station, I don't remember the brand name)
Sleek Makeup Face Form (light shimmery shade on brow bone)
Magnolia Makeup Loose Eye shadow in Spinx (shimmery sheer gold)*
Magnolia Makeup Loose Eye shadow in Tchoupitulas (mattte navy blue)*
Magnolia Makeup Loose Eye shadow in Puddin (matte warm brown)*
Magnolia Makeup Loose Eye shadow in Camel (matte cream)*
Mabylline Collosal Mascara in Black
Amazing Shine Human Hair lashes in #43
Lips
Zaron Lip liner in Red Vines*
Magnolia Makeup LipFix in PinUp*
Here is how it turned out…
Watch

*Products available at Stella's Addiction Boutique
__________________________________________________________________________________________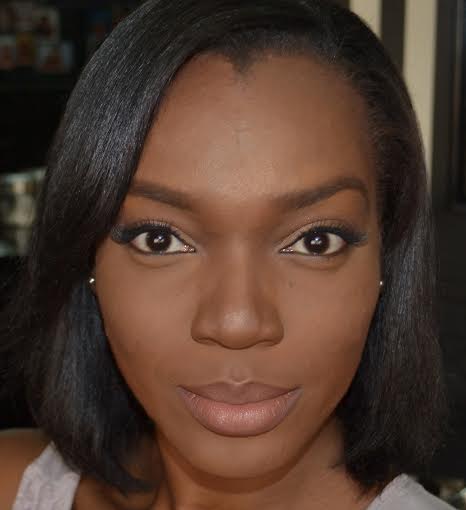 Stella-Maris Ikelionwu is a professional makeup artist, beauty blogger and vlogger. She is the brains behind Stella's Addiction makeup studio and boutique in Lagos and she writes the beauty blog of the same name.
She holds degrees in Communication & Strategy Management, Makeup Artistry and French but choose a career centered around her passion for makeup and hasn't looked back ever since. You can fin her on www.stellasaddiction.com.