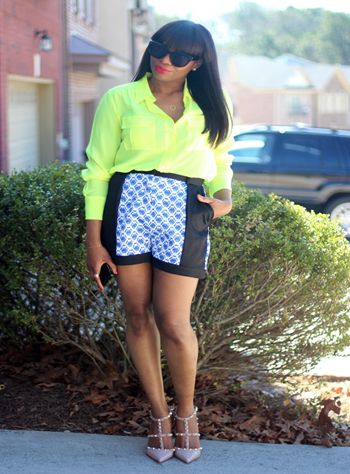 Spring is here and now most of us can finally say goodbye to the Winter blues and welcome to Spring!
Last week marked the 1st day of Spring and although some parts of the world are still experiencing Winter like weather, we are seeing more and more Spring trends hitting the streets regardless of the temperature.
To get ready for the new season I have created a list of Spring must-haves to ensure a very stylish season. For the next 5 weeks we will highlight what I consider some of the most important trends, and how you can make them your own by incorporating it into your everyday lives.
First Edition: Colour Splash
Yellow, Green & Blue: I am a total pink girl, but I have to admit I've been cheating on pink with yellow, blue and green. The season just started and I already have 2 green bags! That is unheard of even for me but what can I say green, blue and yellow is this season's black.
Yellow
We are definitely seeing a variety of shades of yellow right now; however the most popular and sought after shade of yellow for Spring 2014 would have to be canary yellow.
I absolutely love yellow. It looks fabulous on darker skin colors!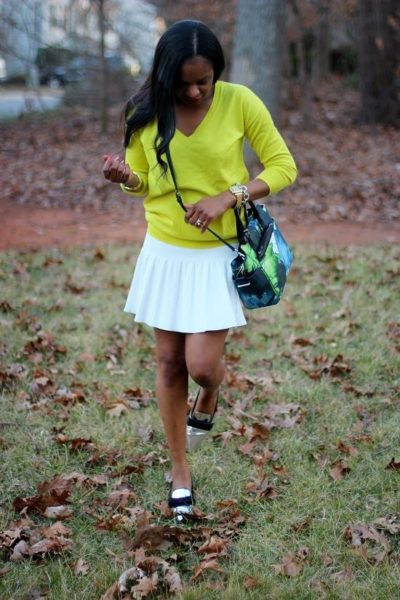 Wear Yellow from head to toe like blogger Wendy Nugen from Wendy's look book blog.
Accessories are a great way to incorporate this vibrant color into your outfit.
Bags and shoes add just the right amount of pop and serve as a great option for women who don't like wearing yellow.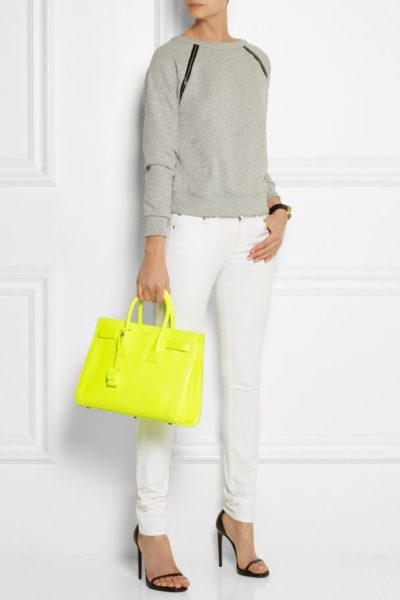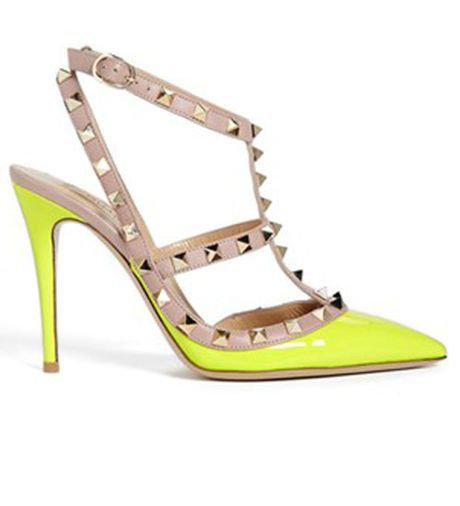 Hallie from Hallie Daily, paired her yellow with black and white print, creating a chic-cheerful look, perfect for Spring.
Skirts like this make me happy, not only does it feature such a happy yellow, but it is also a Midi-skirt. Double trend points!
Blue
Whether you are wearing blue in a floral print or blue from head to toe – it doesn't even matter – as long as you are showcasing blue in one form or the other you are on trend. Blue is huge this season and it can be rocked in light or somewhat dark, as long as the shade is bright and vibrant, you are on trend.
Fisayo Longe from Mirror Me rocking a stunning cobalt blue jacket.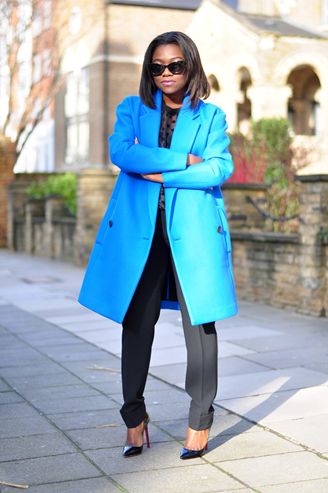 I love blue floral, hence a blue floral bag and over-coat looks perfect over navy-blue pants and a white shirt.
Blue accessories standout and make the outfit. Here are some blue accessories that are sure to get you noticed in the crowd and Spring trend ready.
Blue flower earrings, create the perfect statement. Very Spring!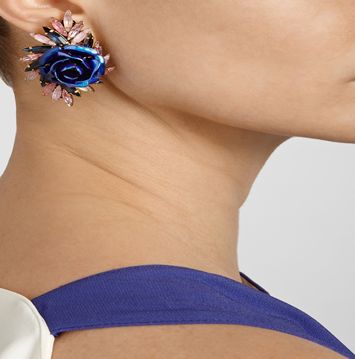 Blue will always pop against white and pink. They only complement the blue hue, making any outfit more interesting.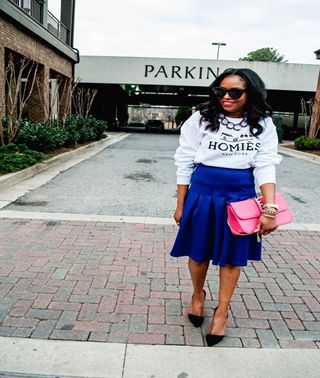 Every woman should own a great pair of blue suede shoes; it will totally transform your outfit.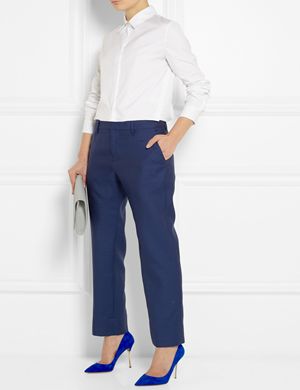 Green
I have never really considered myself a green girl, but the shades of green being showcased this season are incredible. I am literally obsessed and I think you should be too because green has clearly made a huge impact on Spring 2014.
Whether you wear it in floral prints, in your accessories or the entire outfit, it doesn't really matter; as long as you are sporting this seasonal color in Kelly green or a lime green, you can't go wrong.
Like a leaf that goes with every colored flower, green works with every color, making it perfect with pretty much everything in your wardrobe.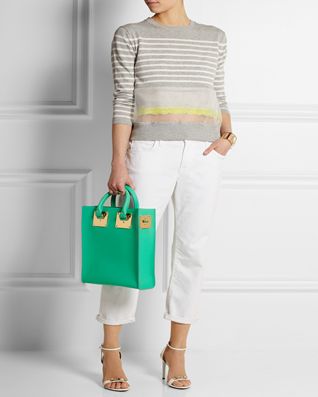 Like the other colors being featured this season, green also adds the pop factor and has the ability to dictate the direction of an outfit.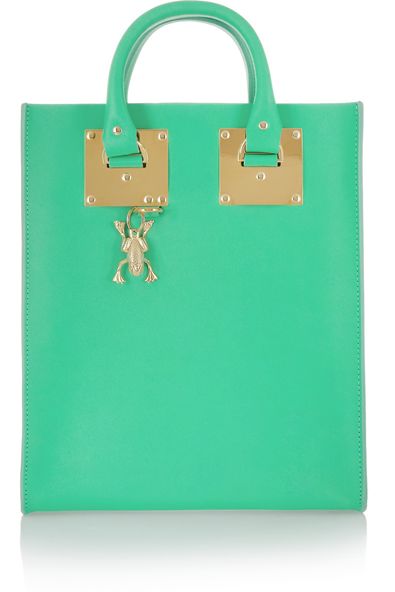 All green looks are fresh but can be loud so try theses shades.
There you have it fashion lovers, the colors of the season! What is your favorite color and which color do you see yourself rocking?
Stay tuned to the next must-have fashion trend for Spring 2014 – The Midi.
Photo Credit: Netaporter.com | Awedbymonica.blogspot.com | Mirriorme.com | Hailiedaily.com | Wendyslookbook.com
______________________________________________________________________________________
Monica is a fashion enthusiast who owns a fashion and style blog called www.awedbymonica.blogspot.com, loves to inspire her followers on how to create effortlessly chic looks and has 15 years worth of fashion knowledge and experience from her work in the high-end fashion industry. For more information on her, visit her blog, email her at [email protected] or Like find her on Facebook.