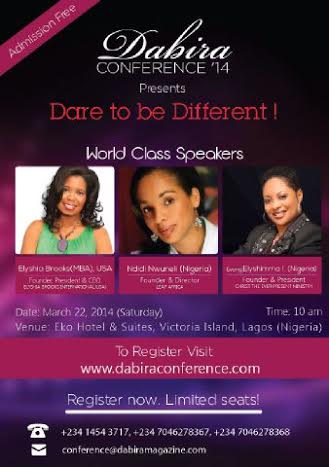 Calling all women! The Dabira Women's Conference is here and they are having a great event focused on encouraging women of Nigeria to be women of purpose and influence. For their 2014 seminar tagged "Dare to Be Different",  they want to impact you with 2 days of inspiration and motivation and a workshop with some of the world's most motivating women.
Day 1: They will have a Woman Entrepreneurial Workshop, for business owners, existing and start-up business organizations billed to host just 25 women in an exclusive business workshop in managing, sustaining, and promoting your business. on the 21st of March, 2014.
Trainer: Elyshia Brooks ( USA)
Day 2: The main conference billed to host women in various groups, career women, women in business, home makers, women in ministries, and young professionals. The conference will stage three renowned speakers from the United States of America, and Nigeria respectively. It aims at helping women discover life goals, overcoming her fears, facing and overcoming her life challenges, as she is prepared to be outstanding in her business, career, ministry, home and academics.
This Event is FREE for all but requires Online Registration at www.dabiraconference.com to keep your seat
Speakers: Elyshia Brooks (USA), Ndidi Nwuneli ( Leap Africa Nigeria) & Evangelist Elishama Ideh ( CTEM Nigeria)
Date: Saturday 22nd March 2014
Time: 10AM
Venue: Eko Hotel & Suites, Victoria Island, Lagos
Dabira Women's Conference promises to be inspiring, educative and interactive.
__________________________________________________________________________________________
Sponsored Content