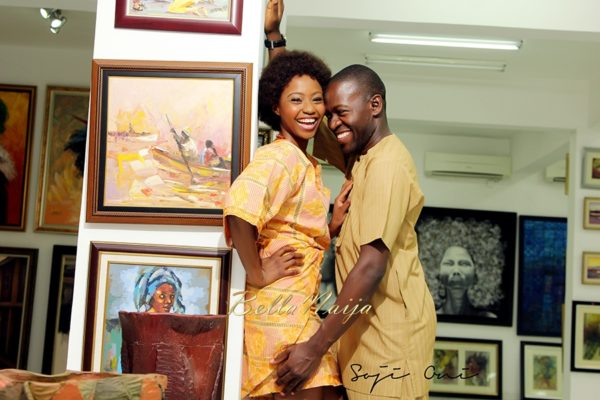 "She no want Ferrari
She say na my love o
You belong to me
And I belong to her o"
– Aye by Davido
Bride to be: Temitope Sadiq
Groom to be: Ayoola Adeola
Sweet couple Temitope and Ayo met during graduate school and became friends after he offered her 'biscuit' in the library. Lol … it's true.
Enjoy their lovely story and beautiful pre-wedding shoot by Soji Oni Photography, inspired by the song "Aye" by Davido.
__________________________________________________________________________
Our Love Story
by Temitope, the bride
We met at Graduate school in 2009. As my mother always says, we were sent to school for a Masters degree, and we decided to come home with an additional degree, lol.
Our initial (albeit uneventful) meeting was at the induction ceremony for all international students. I was with a Nigerian friend, and he came to talk to us (talk about close marking, lol). We all talked for a little while about settling in, and went our different ways. I saw him a around after that a couple of times, but just always said "hello" from a distance.
About two months into Uni, I was given one long project which made me go to the library every other day (I really don't like libraries), and on one boring Sunday, out of the blue, I found him there, head buried in his books (I discovered later that he always has his head in books). We got talking, and he offered me Biscuit because I said I was hungry :), and that was how we became friends.
We gradually started to hang out with the same set of friends, as the Nigerian people started to find one another, and one day in February, 2010, we were invited to a party by one of our Nigerian friends. For some strange reason, we stuck together throughout the whole party, and danced like hell!!!. I should have realized that I fell in love that day, because I didn't even notice how much of a bad dancer he was, lol.
We became inseparable after that day, and we were everywhere together. We came to Nigeria Easter 2010, and then went with a set of friends on a short trip to Blackpool. I got really cranky because I felt like we were getting to close for comfort (before he chases other men away, lol)- and so I asked him what he wanted from me, and with a totally clueless look on his face goes 'I thought we were dating'. I didn't even know how to respond to that, lol.
Anyways, we left Blackpool as a couple, it's been a totally awesome since then and here we are now!
Special message to the groom:
Today, I will marry my best friend, the one I laugh with, the one I live for, the one I dream with, and the one I love.

The one who has shown me that the only one happiness in life is to love and to be loved. We are two souls with a single thought, two hearts that beat as one, because whatever souls are made off, his and mine are the same.

I love you, Ayo.
Awwwww, BellaNaija Weddings wishes Temitope and Ayo a wedding and marriage as beautiful as their love.
***
"She fine pass Darego
The baddest….eh
Baby girl you're the baddest….ah
Oya shake e your asset….eh
Make e man no go forget….eh eh
Oya fi jo gbowo."
***
Photography & Videography: Soji Oni | www.facebook.com/sojioniphotography | (+234) 80 601 633 81 | soj4u2nv (at) gmail.com | instagram.com/sojioni
________________________________________________________________________________
We love weddings as much as you do – get in touch for inquiries, inspiration & more!
E-mail: weddings (at) bellanaija.com | E-mail for #AsoEbiBella: asoebibella (at) gmail.com