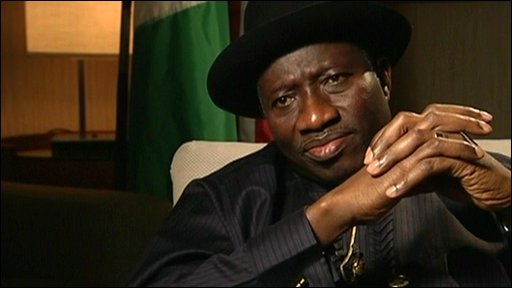 President Goodluck Jonathan has vowed to intensify efforts to exterminate terrorist group, Boko Haram. The President announced this mission on Thursday, at the Conference Hall of the Namibia State House in Windhoek, during the course of his two-day bilateral visit.
Speaking with Namibian President, Hifikepunye Pohamba, President Jonathan said that his administration had initially handled Nigeria's terrorism challenge with 'kid gloves.' He declared that henceforth, his administration will tackle terrorism more aggressively.
The President also vowed to do his best to make sure that economic growth in the North-East is not curtailed due to terrorism:
"With the terror attacks in that part of the country, the rest of the country feels it, because Nigerians live everywhere", he said.
"In these other parts, there is always the fear that if you do not tackle it, it will infiltrate in these other parts. We will work together to ensure that terror attack is stamped out globally and in Nigeria; we are committed."
Saharareporters.com reported this story first
Photo Credit: citizensplatform.net