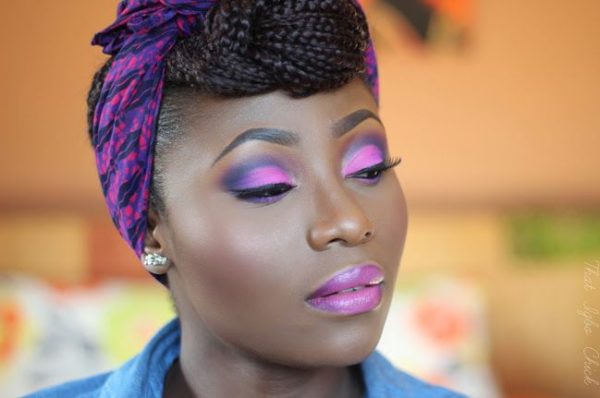 Okay you can stop staring now! That look is fabulous and even we know it.
It's time for our weekly beauty obsession with ThatIgboChick, no not that one, the one we all know and love – Chidimma Umeh. For this Get This Look feature, we are falling in love with blue + purple – "Burple". Chidimma is known for her craft in recreating ankara looks and for her blue and purple ankara she has done it justice.
Now, the look is intense, but we know some of our fab BN Beauty Belles can rock anythang!
So let's find out what she used in recreating the look.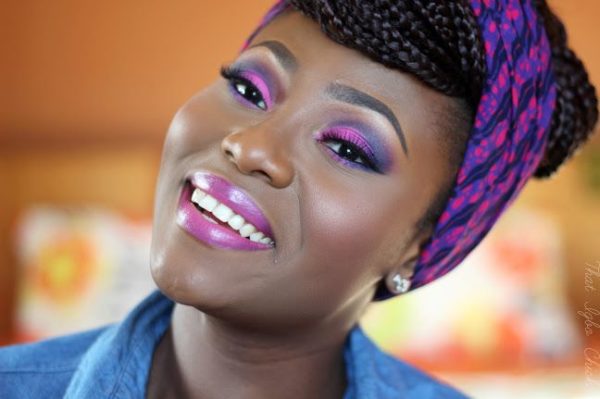 Products Used
Brows
MAC veluxe brow liner – Deep dark brunette
Mary Kay Brow pencil – Soft Black
MAC studio finish concealer – Nw45
Eyes
MAC paint – bamboo
NYX Jumbo pencil – Milk
House of Tara High Intensity Pigment – Margaret Ekpo (Lid, crease, outer lid)
Sephora Color Anthology Palette (highlight & outer V)
MAC feline eye kohl – (waterline)
BlackUp pen liner – FEL 01(liner)
YSL babydoll Mascara
Cherish look – 747M Doubled (lashes)
Face
Teint Idole Ultra 24H Foundation – 12
L.A Girl pro conceal- Toffe (highlight)
Ben Nye banana powder
BlackUp two way cake – TW 11
Cover Girl queen collection bronzer – ebony bronze (contour)
Cheeks
NYX Blush – Desert Rose
Lips
MAC Lip pencil – Magenta
House of Tara Lip stain – Nefertari
NYX lip pencil – Deep Purple
Watch

Photo & Video Credit: www.thatigbochick.com