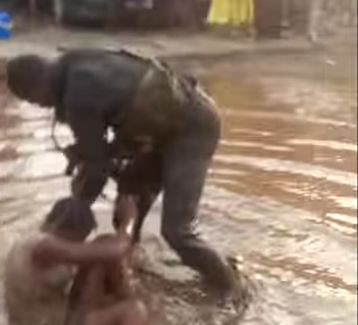 No this is not a clip from a Nollywood flick, this sad incident happened recently.
Tafa Mohammed is a Mobile Police/MOPOL officer from Unit #20 in Lagos. Tafa who was drunk, was caught on camera assaulting 2 women.
The video was recorded by a passerby who stayed at a safe distance.
According to Sahara TV,  the illegal action by the officer erupted when a street food vendor didn't give him fish to finish his bottle of beer. The vendor declined to sell the fish alone, except he bought some food with it.
An eyewitness says Mohammed was reeking of alcohol. An angry Mohammed took on a female customer who was buying food from the same vendor at the time he got there, and threw her into the muddy water on the streets.
In the video, Mohammed is seen pointing his rifle at one of the women. He was later backed up with another MOPOL officer.
The victims reportedly sustained internal injuries.
Which way Nigeria?