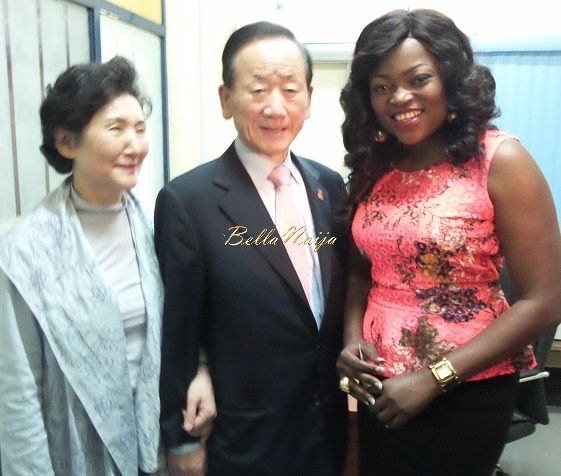 Nollywood actress/Rotary International's Polio Goodwill Ambassador, Funke Akindele on Friday 18th April 2014, help commission 15 mobile polio billboards – an advertisement initiative for eradication of the disease in Nigeria.
Funke joined Dong Kurn Le, former President of Rotary International and the Trustee Chairman of the Rotary Foundation.
The 2-in-1 event also witnessed the commissioning of the Polio House in GRA, Ikeja, Lagos.
With the Rotary Foundation Chairman D.K Lee, the "Jenifa" star and fellow Polio Goodwill Ambassador Sani Danja, help commission the mobile polio billboards on trucks.
Speaking at the event, Funke said that all children, regardless of where they live, deserve a future with hope and optimism. She also commended the initiative of Funsho Logistics for providing 15 trucks to advertise polio eradication.
Looking chic in a pink sequined top and black pencil skirt, Funke was also presented with an award for dedicated service towards disease eradication.