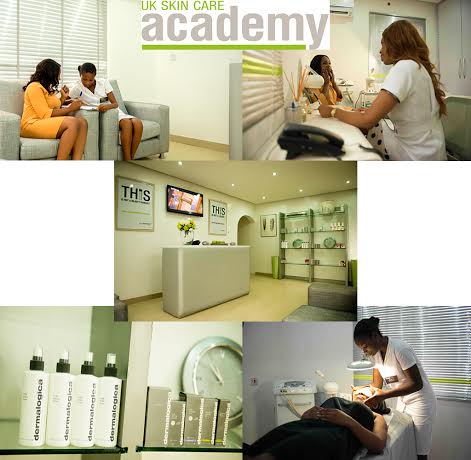 Hey people! The UK Skin Care Academy is here. They are opening their doors in Lagos, Nigeria and giving you a great opportunity to experience their services first hand.
You can expect to walk into a calm and serene environment, where you will be attended to in a private consultation room and offered expert advice, bespoke treatments and prescriptive products tackling a wide range of skin concerns including adult acne, sun burned / damaged skin, acne scars and dark spots, anti-ageing, teenage skin problems, male skin (shaving) challenges and sensitive skin.
To mark their opening, you can take advantage of their Pre-Launch Promo with 10% off skin treatments and products and also get your name down on the waiting list for their courses.
To book your FREE consultation and skin analysis call 0909-391-5506 or 0903-867-8764.
For more information you can visit them at The UK Skin Care Academy, 14B Charles Ifeanyi Street, Off Adebayo Doherty (Road 14), Off Admiralty Way, Lekki Phase 1, Lagos | Call 0909-391-5506 or 0903-867-8764 | Visit their website: www.ukskincareacademy.com | Send an e-mail to [email protected] or for course inquiries send an e-mail to: [email protected]
_________________________________________________________________________________
Sponsored Content