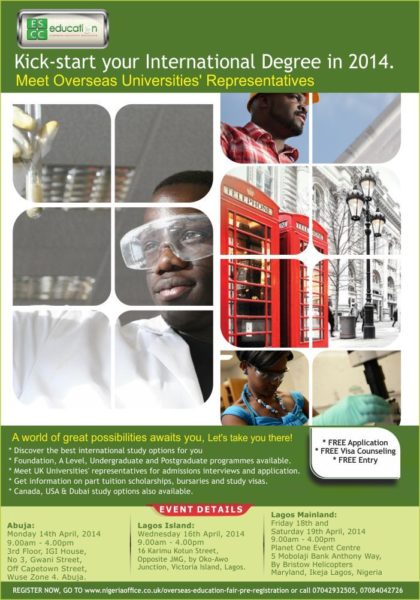 You can be anything you want. All you have to do is attend the ESCC Education Fair 2014, and discover the best international study options, courses and institutions available to help you get started.
The fair has Foundation, A-level, Undergraduate and Post-Graduate courses available with free entry, applications and visa guidance all in one place.
At the Fair you can expect to;
• Meet UK Universities' representatives for discussions and interviews. Exciting study options in the USA, Canada and Dubai are also available
• Start your application process
• Get information on part tuition scholarship and bursaries
• Get student VISA advice from experts and more
What are you waiting for? Visit www.nigeriaoffice.co.uk/overseas-education-fair-pre-registration to register now or call 07042932505.
Event Details
Abuja
Date: Monday 14th April 2014
Time: 10AM – 4PM
Venue: ESCC Education, 3rd Floor, IGI Building, No 3, Gwani St, Off Cape Town St, Wuse Zone 4, Abuja
For more information please call 09 2913317, 08074535747 or 07042932504 | Send an e-mail to [email protected]
Lagos, Victoria Island
Date: Wednesday 16th April 2014
Time: 10AM – 4PM
Venue: ESCC Education, Plot 16 Karimu Kotun Street, Opposite JMG, By Oko-Awo Junction, Victoria Island, Lagos
For more information please call 07042932505 or 07084042726 | Send an e-mail to [email protected]
Lagos, Ikeja
Date(s): Friday 18th & Saturday 19th April 2014
Time: 10AM – 4PM
Venue: Planet One Event Centre, No 5, Mobolaji Bank Anthony way, by Bristow Helicopters, Maryland, Ikeja, Lagos
For more information please call 07042932505 or 07084042726 | Send an e-mail to [email protected]
_______________________________________________________________________________________
Sponsored Content