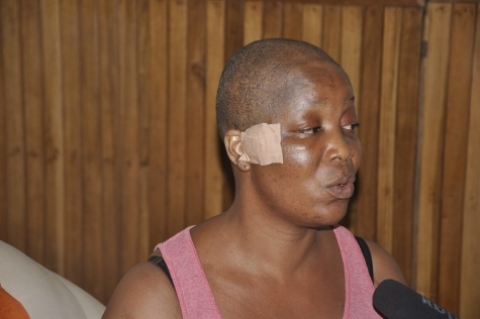 A few days ago, it was reported that Ogun State APC Chieftain, Bashorun Bayo Awosanya, allegedly gave his wife a brutal beating, leaving her with near fatal injuries (if you missed this story click here).
Many news sources reported that the battered woman was Awosanya's wife. However, it turns out that they are not legally married. She is his girlfriend and mother of their two-year-old child.
The victim, Victoria, recently told Sahara Reporters that Awosanya battered her because she was unable to attend a house warming party with him. She had fallen asleep and lost track of time. 

When her lover returned home, he was allegedly furious that she had missed the party and reportedly "pummeled her with punches before bashing her head into a glass-window steel grille, telling her it was time for her to die."
Victoria also revealed that prior to this incident Awosanya, had physically abused her countless times, including sometime in 2008, two days prior to their introduction ceremony. She alleges that she suspended all marriage arrangements because she was scared of his ferocious temper.
Awosanya is reportedly nowhere to be found presently, and so he can't be arrested.
Photo Credit: Sahara Reporters