Here at BellaNaija Weddings we absolutely love wedding celebrations in the North! So rich in culture, love and beautiful people.
Jagila & Kijah met at her cousin's wedding and when he asked for her BB pin she played the age old trick of asking for his number but never intending to call! Karma caught up with her the very next day when she had to call him for directions to another bridal event. We'd like to say it was easy from then on but oh no, she still gave him a hard time.
Let's not give it all away, enjoy their wedding story – and our 1st ever police wedding feature on BNW – The Officer and his Bridesmaid – who became his Bride!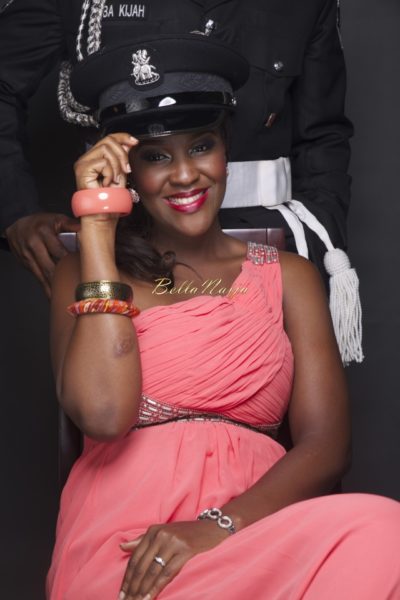 How We Met – "from my groomsman to my groom"
by the bride, Jagila
It was a beautiful day in May 2012. I was a bridesmaid at my cousin's wedding, and he was a groomsman. I walked into the church and sat down and as I lifted my head up to look at the groomsmen, there was one guy I noticed that couldn't take his eyes off me. It was a bit uncomfortable for me because I would glance and make eye contact with him but he was staring so seriously! After the church ceremony, we ended up being partners when it was time to dance into the reception, so we automatically had to sit together. We got talking and it was quite an interesting chat! Even though I can't remember what we were talking about lol. We laughed, danced and gisted then he asked for my BB pin. My reply was "I don't like to add people I don't know or I won't keep in touch with. I'd rather have your number." (By the way I always collected the numbers rather than give my own because I would never call) – I thought I was being smart.
Unfortunately for me, I had to call him the next day because we were to go to the couple's house for the Rakiya and I didn't know my way. So we met up half way and I drove behind him. As expected, after my cousin's Rakiya he called once or twice and we spoke. But the remaining times I missed his calls intentionally but he got the gist! (That's why I love him). We didn't keep in touch until a few months later when we met again. I was with my friend's house playing Temple Run on my phone because I was quite bored. I saw a shadow in front of me because my head was down and as I looked up to see who it was – lo and behold, it was my groomsman!
I was really nice that day – we talked and laughed until we parted. Finally, 2 days later, I was like "hmm, let me check if I still have his number", as I suddenly felt the need to talk to him. I checked my phone and fortunately it was there, so I gave him a call. To be honest he didn't welcome me with open arms. He was very nice but also very skeptical. He kind of thought I was playing a prank on him or that someone sent me! LOL. Well, the rest is history!
The Proposal
To begin with, I had this idea that he will never propose to me in public if he were ever to take that step, because he is very private, (unlike me) so of course so I had ruled that out completely. I love surprises so I did not hesitate to mention jokingly in one of our conversations that I really want to be caught unawares when I'm being proposed to. It was the 22nd of June – my birthday and my sister's wedding day. We had an after party to celebrate my birthday that night so we all got dressed and went to the club. My friends were all there, I had family members, his friends, in fact there was just a whole lot of people (I mean it's a club)! So we were all dancing with my friends in the VIP room. Out of nowhere one of the waitresses said to me that someone was calling me outside of the VIP room. It was Kijah's friend, who said we should all go to the other side of the club. So I thought since the club was becoming full they were just kind of trying to gather us all in one area (that is, the people that came to celebrate with me).
We all went to this other side and were all there dancing and then I saw a group of about 15 guys, all familiar faces dancing towards me and they started going down as they were dancing. I just thought it was a new dance step (you know how we just have different ridiculous dance steps nowadays in this country! lol) So I also started dancing with them but then I saw that they all danced down to their knees! I was confused! Like for the 1st time my brain froze! I couldn't think! I'm always very good in figuring things out but this time I was literally blank! So I kept saying "what is going on?" My friends were all confused and then I saw him coming in-between his friends and he knelt down in front of me – my heart started pounding so fast! Meanwhile my brain was still blank! I just lacked understanding at that moment. My friends started screaming! And next thing he brought out this box and it had the most beautiful ring I've seen which had a heart on it and well he asked me to marry him – but of course with all the screams and the music and all, I didn't hear but I said "Yes"!
That was like the most amazing and memorable day of my life! He made it such a big surprise that everyone was caught unawares so we do not even have a picture to remember that day. But we don't need one, it was too Epic to be forgotten 🙂
Advice to Couples – fasting and prayer!
Firstly, it is quite difficult getting your dream wedding in a place like Nigeria where we have strong cultural and religious views, so be open minded. Focus on the things you can, that affect you directly as a couple. For instance your dress, your bridesmaids, his groomsmen and the groom himself.

Be approachable and listen to people's views and opinions if you like them go with it, if you don't like them, be polite and go ahead with your plans theirs no need to argue or quarrel.

Finally, prayers are very important! My husband and I fasted for 30 days in preparation for this wedding. We still did another 7 days when it was closer to time where I also included my bridesmaids to join us for the last 3 days. We all need prayers regardless of what or whom we believe in, we need some kind of spiritual covering and we got that absolutely. Trust me, we had a lot of challenges as the day was drawing closer but prayer is the master key. It was a wonderful day. Everything went as planned and even better and we wish you all the best in your upcoming weddings and preparations.

– J & K
That's so true – being diplomatic, open minded and prayerful will go a long way in making your day go according to plan.
Jagila's Words of Wisdom – Just for Brides:
Have an amazing bridal party. Friends who genuinely care about you and would put your feelings above theirs. I had the most amazing bridal party. They were all so mature in their relationship with one another most of them had never met themselves but they all clicked like friends and are still friends till date. They ensured I was happy and ensured no one took away the spotlight from me. I can't thank them enough.
BellaNaija Weddings wishes the J & K a joyful home!
***
Pre-Wedding Photos: Big H Studios

White Wedding Photos: The Atunbi Experience
Rakiya Celebration Photography: Jerry Bangoji
The Rakiya celebration is a Michika/Madagali tradition from Adamawa State. It is conducted the day after the white wedding. The beautiful bride says,
"I wore a Silver and Blue traditional outfit at my Rakiya. Rakiya is a Hausa word which literally means Escort. The day after my white wedding, I returned back to my father's house with my friends where I was finally dressed up and Blessed by my entire Family before being escorted to my husband's house.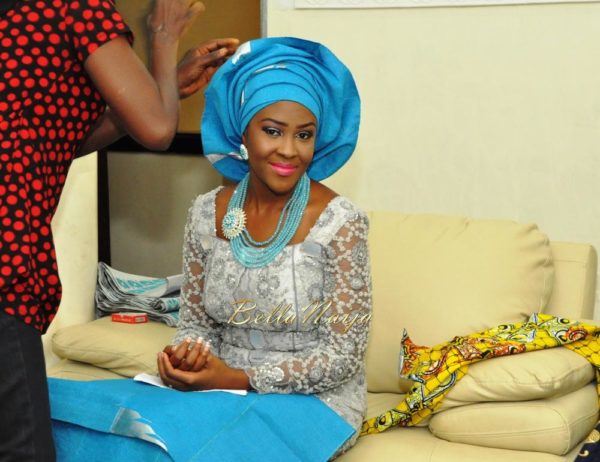 By the tradition, my father Blessed me and Covered me with his "Gari" also known as agbada or babanriga. This Gari was used for my elder sister and will continually be used to send forth all my sisters to their Husbands' houses and then it gets returned back to my father.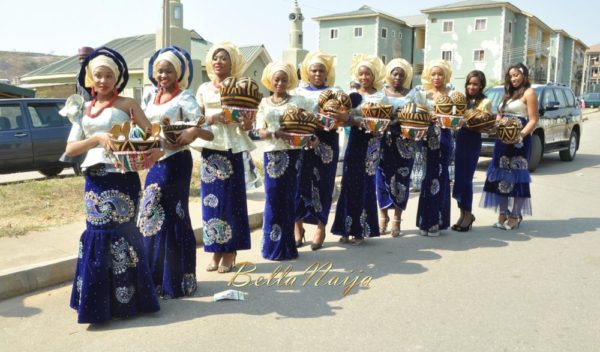 I had my friends holding calabashes on their heads which in those days were used as a form of bowl for serving food. I was also presented with a broomstick for cleaning my house and also a long stick for cooking food.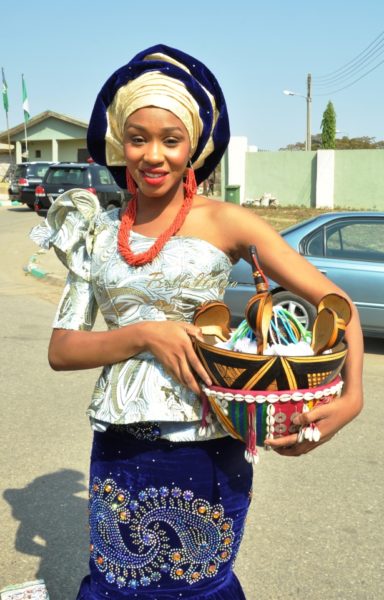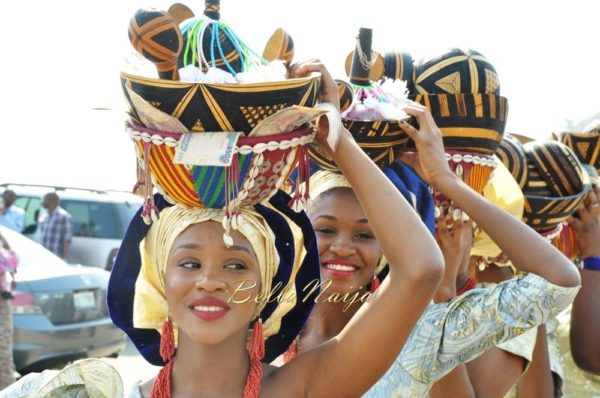 On arriving to my husband's house, his family was made to pay my friends for carrying the calabash on their heads and also they were meant to pay some elders of my family. In return, I had to present his family members with gifts of cows, traditional snacks like nakia,dubla,tsatsafa and ridi which is known as sesame seed in English.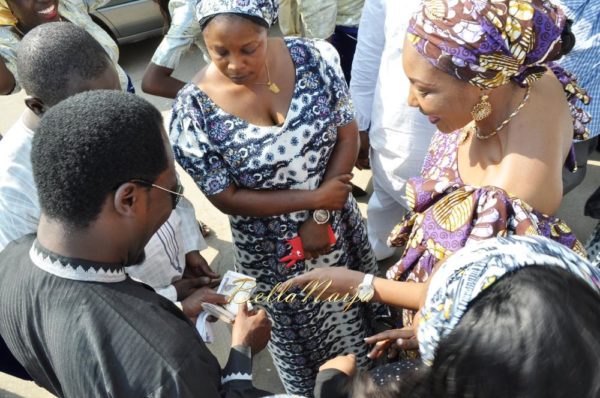 After the bargaining process which lasted about an hour or more, I was finally escorted into my husband's house by my eldest male cousin to my room.
I wasn't allowed to turn my back until I had reached my room. It signifies that this is my final place of abode, i.e there is no turning back to daddy's house anymore.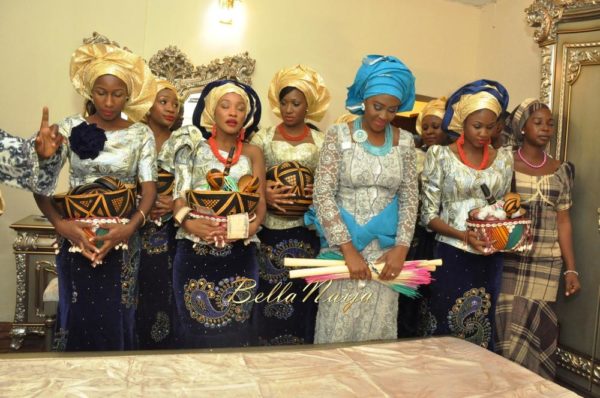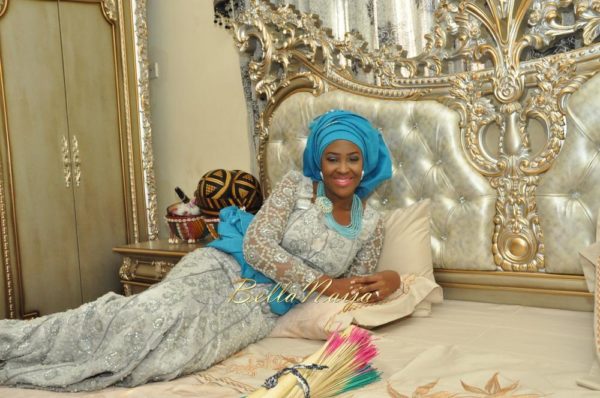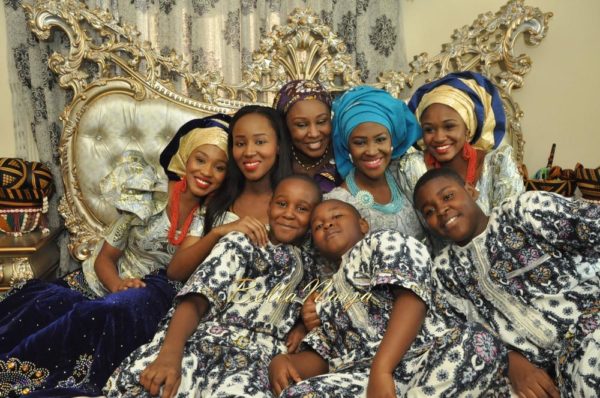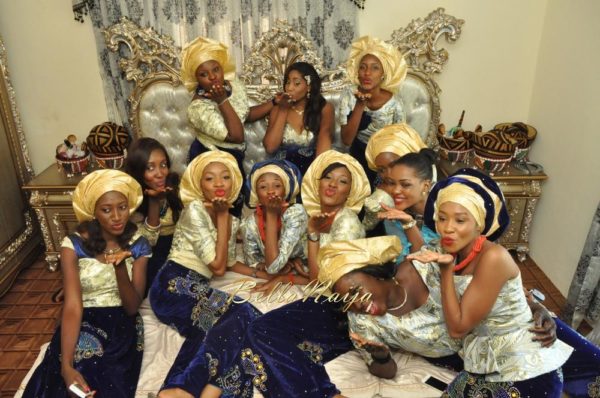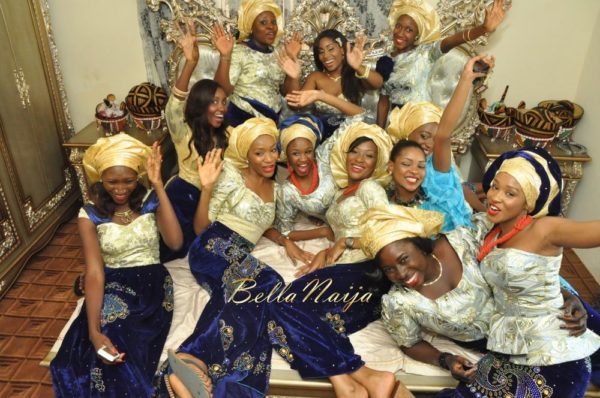 It was an emotional day as saying goodbye to everyone was difficult to do, however it was also the beautiful beginning of life with my husband 🙂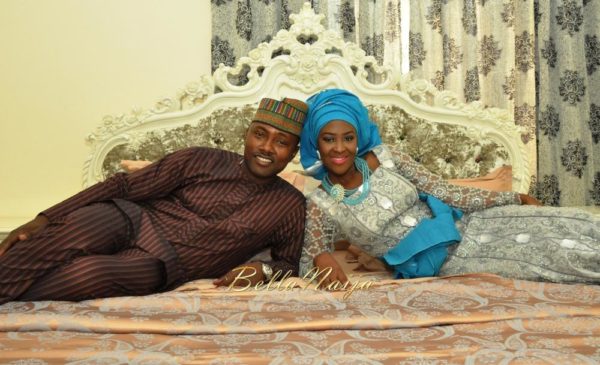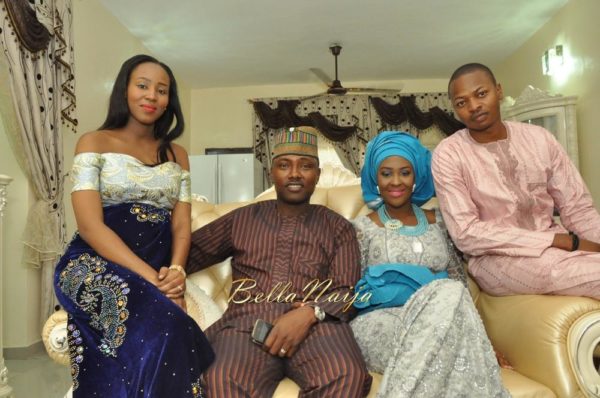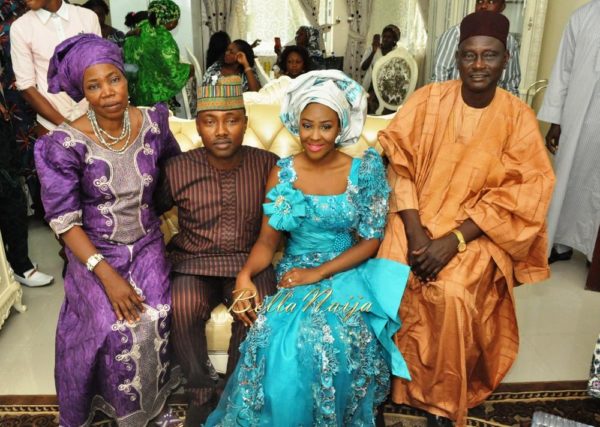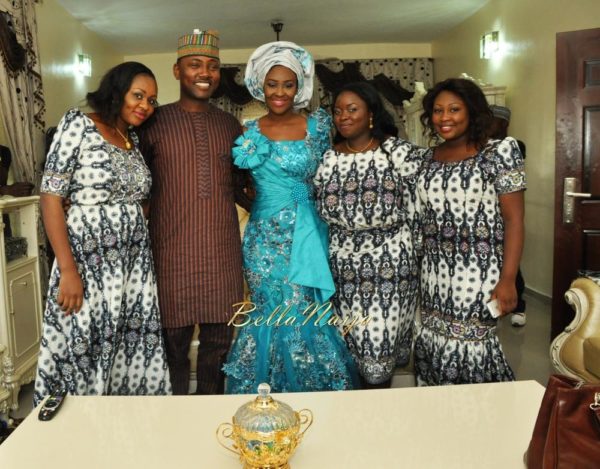 ***
Pre Wedding Photography: Big H Studios – +1 469 386 4081, +234 803 3119 531 | instagram.com/bighstudios
Wedding Photography: Atunbi Photography – www.atunbi.net | instagram.com/theatunbiexperience | support (at) the atubiexperience.com | instagram.com/atunbi
Rakiya Photography: Jerry Bangoji – +234 802 9999 489
Wedding Dates
White Wedding: 21st December 2013
Rakiya: 22nd December 2013
Wedding Colours
White Wedding: Fuchsia Pink, White and Silver
Rakiya: Gold and Blue
Venues
White Wedding: M&M events centre Abuja
Rakiya: Bride's Family House to Groom's Home
Wedding Attire
Bride and Bridesmaids Hair: Hair by Emeka – +2348034239851
Wedding Dress: Custom Made Princess Dress
Groom: Nigerian Police Ceremonial Attire
Bridesmaids Dresses: Karen Mila +2348091668671
Fascinators: Dunni +2348023261865
Bouquet: The Bride's Bouquet – www.thebridesbouquet.co.uk
Groomsmen Accessories: DqT
Bride's Rakiya Dress: Debbie's Couture – (+234) 8036468924
Bride's Beads: Beads by Oma +2348138814577
Pre Wedding Photos Make Up: Kaysomme makeovers +2347064379487
Bride's Wedding Make Up: Mamza Beauty – instagram.com/mamzabeauty – +2348035051501
Bridesmaids Make Up: Anita Eguabor +2348102849972
Rakiya Make Up: Obianuju | Instagram – @Obianuju_o
Vendors
Wedding Planner: Bride and her Mother
Wedding Décor: Simply Events +2348033288841
________________________________________________________________________________
We love weddings as much as you do – get in touch for inquiries, inspiration & more!
sdmfjnksjvE-mail: weddings (at) bellanaija.com | E-mail for #AsoEbiBella: asoebibella (at) gmail.com