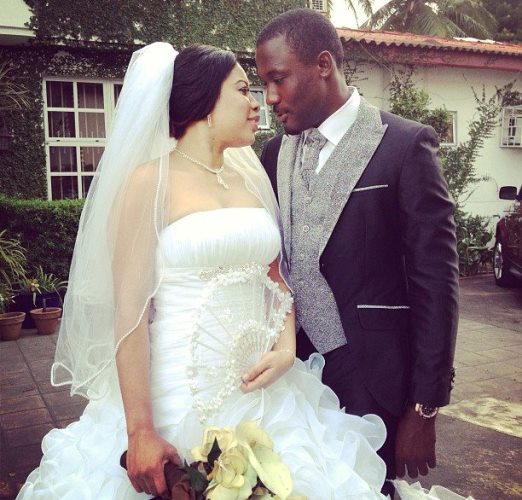 What is "The Untold Story of Joseph Benjamin"?
For its April/May 2014 issue, RB – Reading Bridges Magazine tells us that and more.
The Nollywood actor and co-host of the MTN Project Fame West Africa show, covers the publication in a checkered blazer and a white shirt.
In the issue, he shares about rumours, wedding bells and his music career.
Read Excerpts;
On selecting the right roles: "For me I carefully select my movie roles and would not play a role that does not meet a certain criteria. I am very discreet and professional; it's really not about the number of movies but the quality is all that matters to me. This decision I took long ago before I came into the industry. I asked myself what I will be doing differently because I dont want to just follow suit and do things the usual way….I always look out for key things that will put me in a good light and will be challenging to me as a professional, most importantly the mileage, even if the financial compensation is not much."
On his favourite directors: "I would like to say in no order, but Mahmood Ali-Balogun, Zeb Ejiro, Kingsley Onwefe, Desmond Elliot, Lancelot Imasuen, Tope Alaka. These guys are amazing directors."
On the actress he is most comfortable with: "I have pretty much acted with all of them. I am practically comfortable with all of them. The ones I have not acted with are Omotola Jalade, Mercy Johnson, Rita Dominic. They are all amazing people with their own different ways. You usually have a perception about somebody before you meet them, never judge a book by its cover. There were even rumors of Monalisa and myself being romantically involved, she is my very good friend."
On possible wedding bells: You people will wait o! because it's not looking near, I just got out of one and it wasn't a good story. I am just focused on work and giving my beautiful kids a very good life. My daughter is 12 and my son is 9."
On his favourite Nigerian musicians: "For me Timi Dakolo, Praiz, Bez, Asa, Nneka, Femi Kuti, Omawumi, Waje, Darey, Cobhams. I started off as a musician as a matter of fact, so it affects the kind of music I listen to."
On releasing a song soon: "Haaa! *chuckles* You know a lot of actors have delved into singing, I really won't want people to start saying "this people have come again o.." you know what I mean *laughs* but stay tuned to this channel you might have a little something from me soon"
On keeping a low profile: "I don't draw any attention to myself. I usually stay below the radar, I try to live a very calm and low key life, which is why you don't see me everywhere. It's just my lifestyle."
The issue also features interviews with Nimi Briggs and Egor Efiok.
The bi-monthly publication features celebrity lifestyle, politics, education and sports. RB magazine is available on www.jumia.com, in all major stores and vendors nationwide and is also distributed in Ghana, USA and United kingdom.
Credits
Photography: Colorido
Stylist: Adedeji Abidemi (StyledByBie)
Make-up: JagaBeauty
Outfits: Jorge Blaq | Nathan Cole
Co-ordinator: Jesutola Ajao