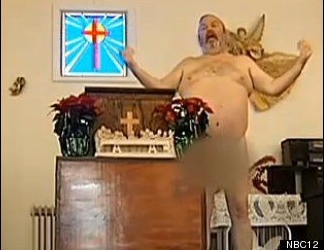 "When Jesus was born he was naked. When he was crucified, he was naked. And when he arose he left his clothes in the tomb and he was naked," says Pastor Allen Parker of White Tail Chapel, Virginia.
The aforementioned statement, is the Pastor's rationale for running a nudist church in which he preaches nude to a naked congregation.
According to him, clothes are pretentious and when people attend the church, they should be free to bare their souls to Christ, no matter what they are wearing or not wearing.
"If God made us that way [naked], how can that be wrong?" he says.
See Pastor Parker in action here:
NBC12.com – Richmond, VA News
Wow.
Photo/Video Credit: Huffington Post/NBC 12