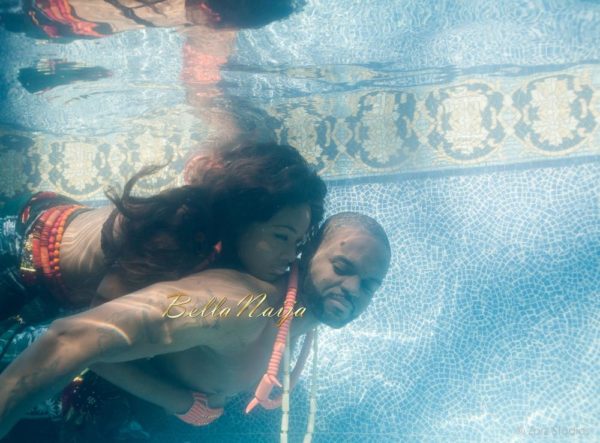 As we Nigerians say, brides and grooms "are not smiling!" Pre-wedding shoots and videos have taken a next level dimension lately! Say bye bye to studio shots, couples are expressing their personalities in out of the box ways.
Ugochi and Nnamdi share a love for fitness and adventure. Even though they can't swim, they were brave enough to venture underwater in their traditional attire for this hot pre-wedding shoot. The beautiful couple will wed in a few weeks, and today Ugochi shares their love story. Expect no sugar coating! It was a bumpy road to the relationship but once Ugochi put her foot down and stopped talking to Nnamdi, he realized he couldn't be without her.
BN Weddings wishes them happy planning and a beautiful union.
Enjoy and as always, be inspired!
***
Bride-to-be: Ugochi
Groom-to-be: Nnamdi
How We Met
by the bride, Ugochi
I was having my 23rd birthday party in a boutique I worked at. I had the event posted on Facebook. Nnamdi clicked on "Attending", and I sent him a friend request which he accepted. Beyond that, there was no further communication between him and myself. On the evening of the event, he arrived very late with his friend. The event was virtually over and I was doing my final meet and greet rounds. Nnamdi and his friend both walked over to me and Nnamdi asked to take a picture. I looked at both of their faces and I asked if they were Nigerian, and they replied "Yes". Honestly I did not believe them, so I asked to see their licenses to verify this. They were good sports and showed me their IDs. After my birthday party had ended there was an after party at a lounge in Bethesda, Maryland. I drove with my friends and met up with Nnamdi and his friends. I danced and talked with him the whole night. We exchanged numbers and kept in contact.
Nnamdi at that time stated he was not ready for a serious relationship because just got out of a previous long term relationship. However, we remained friends, and spoke on the phone with each other every day.
A few months later Nnamdi and some friends were hosting a charity cook out. At this event there literally were 6 different girls in attendance that were "interested" in Nnamdi at that time. While I was at the cookout he didn't seem interested in talking to me for an extended period of time so I began to feel like he was playing "games". I got frustrated and told my friend I didn't want anything to do with him. At a party later that night, Nnamdi was there and I ignored him the whole night. I decided to talk to another guy who was at the party that evening, but truthfully my mind was on Nnamdi the whole time.
After that night I decided that it would be best to just stop talking to him completely.
About a month later I got an honesty box message that read "You don't love me anymore?" I automatically knew it was him and I replied "I never stopped loving you". He called me later that day and explained to me that after I stopped talking to him, he really missed me. He told me that he tried to get involved with another girl, but he found himself always talking to her about me. Also, he said that I was the only girl that he had ever introduced to his mother that she really liked. Most important he shared that more than anything he missed my friendship and I was someone that he could talk to about anything.
After that we grew closer and talked to each other like before – every day. Later that Fall I organized a surprise 29th birthday party for him. After his party he told me he had never met someone as caring as me and that we were an official couple 100%.
Since then we've been inseparable.
***
~ Photography: Zorz Studios
Photography: Zorz Studios | zorzstudios.com
________________________________________________________________________________
We love weddings as much as you do – get in touch for inquiries, inspiration & more!
E-mail: weddings (at) bellanaija.com | E-mail for #AsoEbiBella: asoebibella (at) gmail.com