In our final installment of BN Weddings in Dubai, we give location tips, invitations, general destination wedding dos and don'ts and more!
In case you missed it the first 2 parts of the series:
Part 1 – Photography, Wedding Planning Tips – Click Here
Part 2 – Wedding Attire – Click Here
***
Before we explore venues and more, we're aware a Lot of brides and grooms don't have great wedding etiquette. For a destination wedding, a 'Thank You' speech isn't really enough. People flew thousands of miles and paid thousands of dollars so they expect a Great time.
Here are ideas for thanking your guests/wedding party and making the wedding experience more enjoyable for them:
Brides Behaving Badly! DOs & DON'Ts of a Destination Wedding
DO – Consider paying for bridesmaids dresses/groomsmen suits! They already bore the cost of tickets, visas and accommodation. This'll be a nice treat and keepsake for them.

DO – Relieve the stress from your guests by creating flight and accommodation packages for them. Most hotels offer group discounts.

DO – Arrange transport for your guests from their hotels to wedding venues.

DO – Create fun memorable souvenirs for your guests that'll make them remember your destination wedding.

DON'T – Leave your guests bored.

DO – create fun activities for them to do before and after the wedding. For example, Mariana and Abba Atiku had a pre-wedding dinner party at Waldorf Astoria. (see some shots below!)
Do you know any fun destination wedding activities/suggestions? Please leave them in the comments below!
Now taking a few steps back, before you can plan any bridal event in Dubai, the 1st decision is Location! 
Tips for Choosing a Wedding Venue in Dubai
1. Time of The Year – indoor vs outdoor? – as the Nursery School rhyme goes, "when will you marry?"

The UAE is predominantly Muslim, so the Ramadan month is highly respected, and you're not encouraged to do weddings in this time. It is also a no-no (although no one will regulate this) to have your wedding during summer. The summer months can be scorching hot, so even when you want to take your wedding portraits you will sweat a ton.

The time of the year will determine your venue. If it's a warm/cool (not hot/freezing) month, you might want to take advantage of outdoor spaces with spectacular views like Tiwa Savage & Tee Billz did at the Armani Hotel, Burj Khalifa this April. To accentuate the stunning view of the sky, Prive Events – their wedding planner, released doves into the sky after the couple's emotional vows.

2. Church vs Wedding Blessing – Some Christian couples prefer wedding at Church to a wedding blessing elsewhere. We found a list of churches (click here). Make sure you arrange busses for your guests from hotels to church to reception, to make things convenient for them.

3. Proximity to Burj Al Arab – The legendary 7-star Burj Al Arab hotel is a landmark that every bride and groom wants to have in their once-in-a-lifetime (hopefully!) wedding photos. If you can't afford to get married there, choose a hotel close by so it can show in your pictures.

4. Adventure Anyone? – If you're up for an adventure, you can have your wedding on a yacht with beautiful water views as you take your vows. If you're REALLY adventurous, you can also have it in the desert. Lol, just kidding! … Or are we 🙂
Hotel – Dusit Thani
Dusit Thani is one of the oldest hotels in Dubai. As it's a Thai hotel, it boasts (arguably) the yummiest Thai restaurant in the Emirate. It's close to the Dubai Mall & Burj Khalifa, and there's a free shuttle every hour.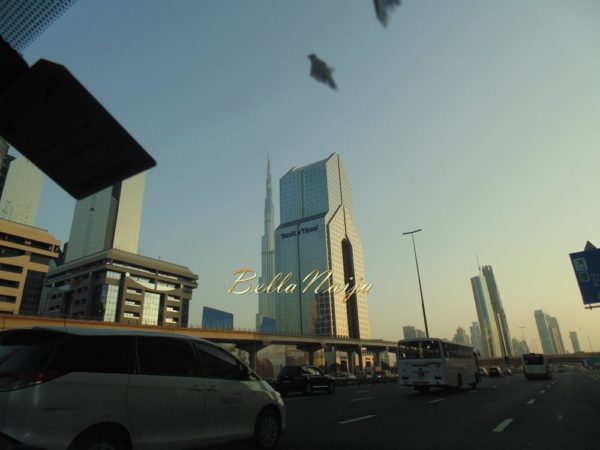 The great thing about Dusit is they have a partner hotel in the Maldives so you can arrange a beautiful wedding/honeymoon package with them. On the D-day, they are willing to work with your menu when discussed and given in advance.
After picking your perfect venue, how will you introduce your guests to your wedding?!
Invitations & Wedding Stationery – Design by Louma
Louma is such a sweetheart! The invitation crafter works with Nigerian couples regularly to bring out their personality and style for their wedding stationary. The business was borne from passion, when she made her own invitations. Like Nigeria, at the time she was getting married, there were a lot of 'printers' (people who print items like IVs in bulk), but not someone who could conceptualize, design and print.
That's where she comes in!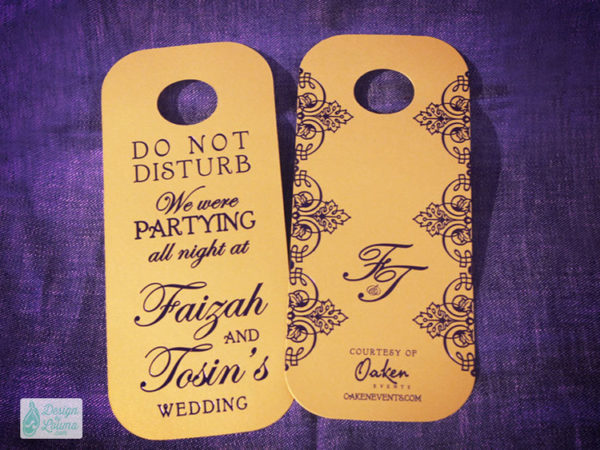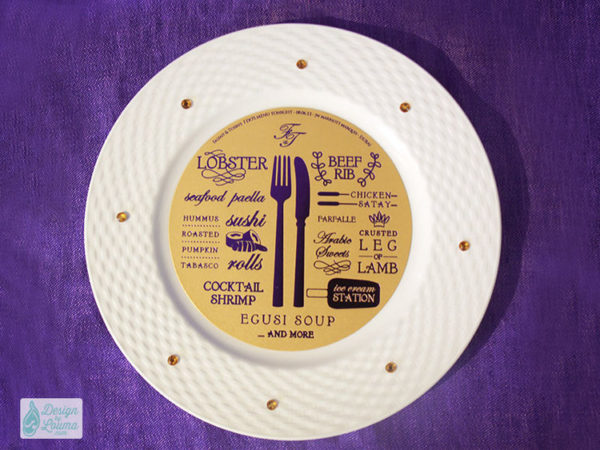 Her first work with a Naija couple was with Oaken Events for Faizah & Tosin's wedding (see photos above). She can also send your wedding stationery by air if you're not wedding in Dubai.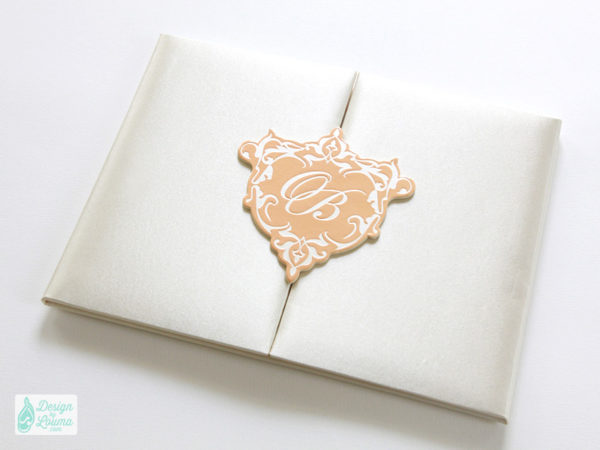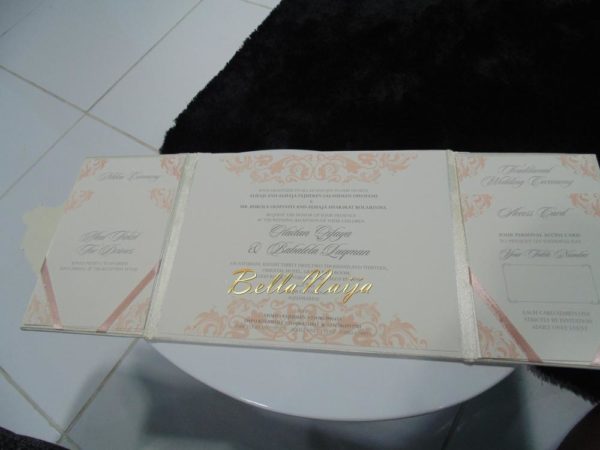 She has a background in arts and graphics, so you can go from lush to contemporary, simple to textured, on different materials – from paper to ceramics and more.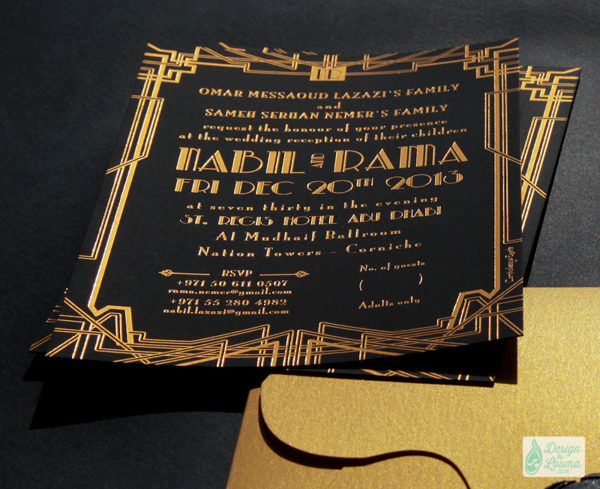 Desserts – Delice
After an unforgettable ceremony in a breathtaking venue – we're using our imagination here 😉 and you've treated your guests to fine dining catered by a hotel, and mouth-watering desserts from a place like Delice!
Delice is in the older part of Dubai, named Derai.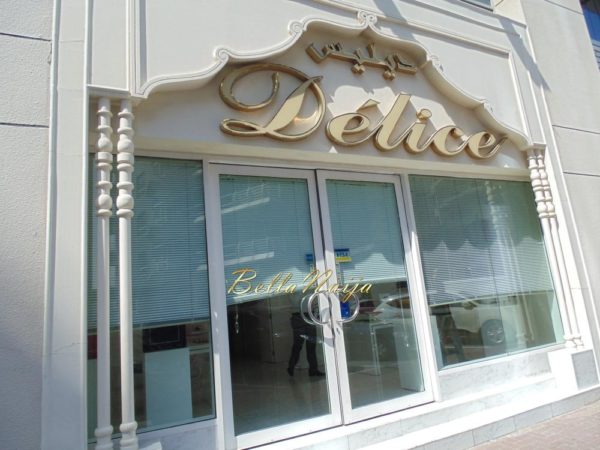 The boutique dessert haven has gift boxes lined up on the shelves and desserts displayed on interesting stands and on a screen.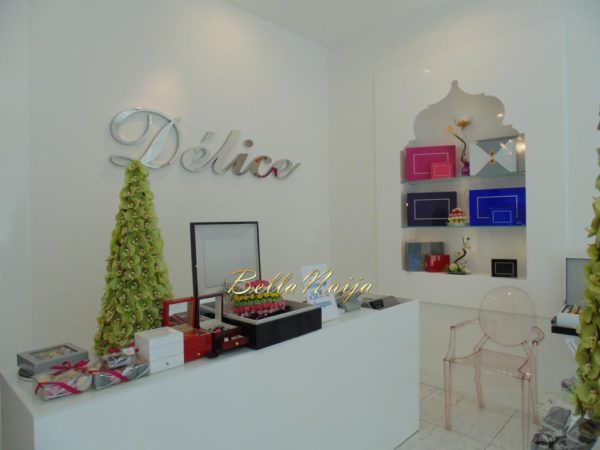 I also put on a hairnet and got a first hand view into the crafting of the amazing treats!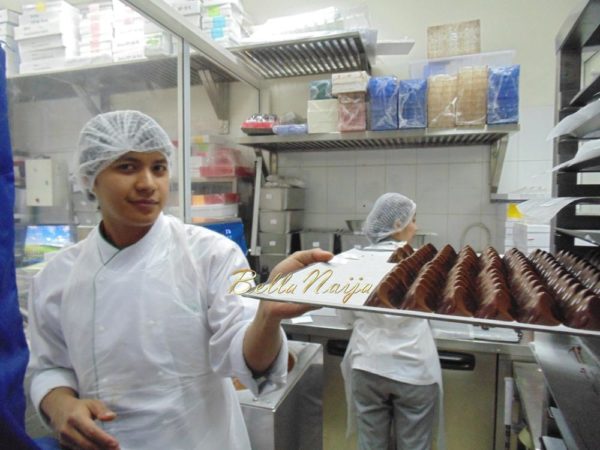 I had the privilege of talking with the owner, who showed me one of their ultra fab weddings – at this one, there were 7,000 (Yes, Seven Thousand guests!).
No they don't make wedding cakes unfortunately, but if you're looking for sweet treats – Emirati (from the UAE) favourites and modern desserts like macaroons for your friends and family to take home, they're it!
***
We did a whole lot in Dubai in just 3 days! Fortunately, we met some amazing wedding vendors that could make your dream wedding come to life.
Unfortunately, we couldn't cover every aspect, but this is where you come in! If you have any tips or tricks for planning a Dubai/UAE wedding please let us know in the comments.
Thank you, and as always, be inspired!
xoxo
Ink
***
Vendors
Invitations: Design by Louma – designbylouma.com
Hotel: Dusit Thani, Dubai – dusit.com/dusitthani/dubai/default-en.html
Desserts: Delice – delice-dubai.com
________________________________________________________________________________
We love weddings as much as you do – get in touch for inquiries, inspiration & more!
E-mail: weddings (at) bellanaija.com | E-mail for #AsoEbiBella: asoebibella (at) gmail.com