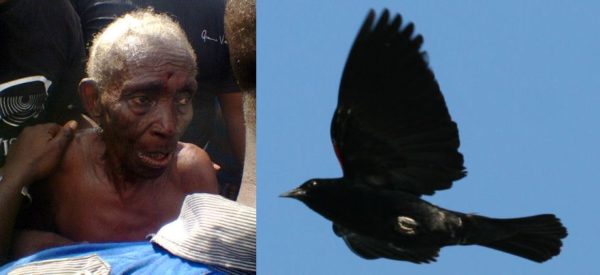 No, you're not seeing things. You read the headline correctly! Its not a promo for a Nollywood movie. This is reportedly a true-life story.
Residents of the Ajegunle area in Lagos say a bird transformed into an old woman who confessed to being a witch, Vanguard reports.
Speaking in Yoruba language, the woman told a startled crowd that she was on her way back to Ibadan, Oyo State as a bird when she lost her way. She also revealed that her magical powers had been weakened because it was dawn.
According to eyewitnesses, at about 7 a.m. yesterday, three black birds were seen flying side by side along Ojo road. Suddenly, one of the birds landed on a moving pick‑up van owned by Eko Electricity Distribution Company.
An eye witness, Okafor, gave the following account:
"Everyone ran away at first but we later gathered round the woman only to discover that she had a bruise on her forehead with which she landed.
When we asked her what her mission was, she said three of them were sent to Lagos from their coven in Ibadan but that on their way back, they missed their way.
She said they started hovering in the area until it was morning, adding that she fell because she was tired.
She also told us that she initially did not want to embark on the journey and that she used to restrict her witchcraft activities to Ibadan because of her age.
She was thereafter taken to the Baale of Ajeromi, where she confessed to have killed her husband through witchcraft."
Police authorities took the woman into custody to prevent her from being a victim of "jungle justice." Because witchcraft is not a crime, police say she will be released shortly.
Photo Credit: firstalongtheriver.wordpress.com/Punch