A few weeks ago I decided to clean out my freezer and what did I find? Rabbit.
I have this bad habit where I see something different when I'm at La Pointe especially they had fresh whole rabbit. Yes, Bugs Bunny kind of rabbit. The whole thing with the head on. But true to myself I forgot it in the freezer. Quite like those shoes you buy and swear you would wear but you'll be mixing it for that perfect occasion.
Finally I had this light bulb idea: Pepper it up and get Asun.
I mean back in Paris we made rabbit into this mustard sauce which I ruined by adding all the mustard in the world and I never wanted to try it again. But, I had this idea to cook it confit and other grand techniques to show off. However, did that happen? No! So seeing this, thankfully, still good looking piece of protein, I thought to myself as to how to get it to speak flavour to my mouth and satisfaction to my belly. I saw my BBQ stand and boom! Asun!
So fortunately for me, one of my staff who makes asun for his small chops business helped me to get the firewood burning and smoking. After a good charring over coals I chopped it up into tiny pieces then stir fried in the pepper-onion mix.
Best Snack ever!
You Need
1 rabbit cut into 6 parts
1 Seasoning cube (I used Knorr classic)
2 teaspoons white pepper
2 large onions
300g Chilli Peppers e.g. Ata rodo, Habenero,
2 garlic cloves
Salt to taste
Pinch dried thyme
1 1/2 serving spoon vegetable oil
How To
Place the cut pieces in a bowl and toss them they in the seasoning and white pepper. Leave to marinade for at least 30 minutes to one hour. Overnight is fine too.
While that's marinating set up your coals or grill pan. If your using a pan make sure you have good ventilation because your pan needs to be super hot so it can char properly. If using a pan, toss the rabbit in some oil before placing in the pan. Sear well on all sides for 2 minutes each or till well browned and has grill marks.
If you're using coal just place over the coals till well browned on all sides. Allow more of the smoke to do the work. After the charring or smoking leave to rest.
In a food processor place the onions, peppers, cloves of garlic and process till you get a rough consistency.
In a large fry pan pour the oil and get super hot and toss the meat, and pepper onion mix all together and keep stirring over the heat. You can do this in two batches – in case your gas doesn't burn so well.
What unusual meat are you willing to pepper up ?
Here are my tips for making great asun.
1. Try a different type meat. e.g. lamb, pork (if you eat) rabbit in this case
2. Inasmuch as you want it to be spicy try not to go overboard. I recommend 2:1.5 ratio – 2 being the onion and 1.5 being the pepper.
3. Season properly with seasoning cube like Knnor classic or Adobo
4. Also season with garlic – not so much that your guests start feeling uncomfortable with their breath afterwards. Also, I find a little thyme goes a long way.
5. If you dont have time to smoke your meat prior to tossing it with the pepper mix, try grilling it on a high heat on cast iron ridged grilled pan or a good heavy based one. you should get the charred-smoked effect.
6. Don't wait for an owanbe part to enjoy asun serve it with some beans for lunch and with some warm bread as a canapé at your next dinner party.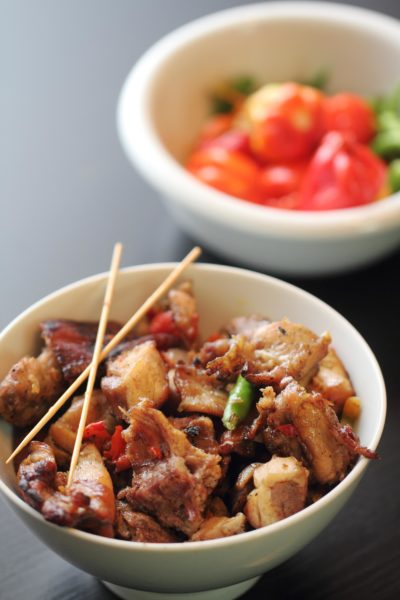 The rabbit tasted about like chicken but that smokey flavour gave it a really nice and intense flavour.
Have a great weekend people!
Ciao!
Photo Credit: Debayo Rotilu for Twelve 05 Foodography.
_____________________________________________________________________________________________
Chef Fregz loves to cook! He is a graduate of Le Cordon Bleu Paris Culinary Arts School in France and hosts monthly "Chef Fregz Specials" where he whips up a yummy menu with a different theme each time then everyone enjoys a taste. He also caters special events and private dinners. To find out more visit www.cheffregz.com. Chef Fregz provides premium private catering services. For bookings and orders email [email protected] – @Chef_Fregz on Instagram and Twitter. You can check out the Chef Fregz Page on Facebook as well.