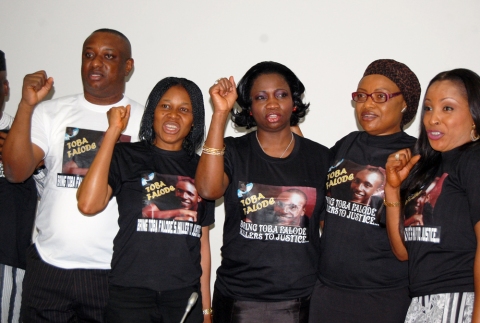 Aisha Falode's campaign for justice for her son, Toba Falode, continues.
Toba a.k.a "Tyler Hendrix Fray," tragically passed away in Dubai in February at the tender age of 19. Although Dubai police says the cause of his death was an accident, Falode believes her son was murdered.
As part of her campaign, Falode and fellow supporters of her cause, marched to the National Assembly yesterday, where they drew the attention of some members of the House of Representatives who promised to demand an in-depth investigation of the alleged murder according to Sahara Reporters. 
Some of the individuals who accompanied Toba's mother on the protest include, Civil rights attorney, Festus Keyamo, Women Arise leader, Joe Okei-Odumakin, and House of Representatives member, Abike Dabiri.
Falode revealed that she had asked Dubai police for a comprehensive report regarding the circumstances of her son's death but her request was refused. She said the authorities in Dubai told her that only the Nigerian government could demand a full investigation on her behalf.
To join the campaign for justice for Toba a.k.a Tyler Fray, visit:
Facebook : Justice for Tyler Fray a.k.a Toba Falode
Twitter: twitter.com/TylerFray
Instagram: instagram.com/justicefortylerfray
Email: justicefortylerfray (at) yahoo.com
Photo Credit: Sahara Reporters/Facebook