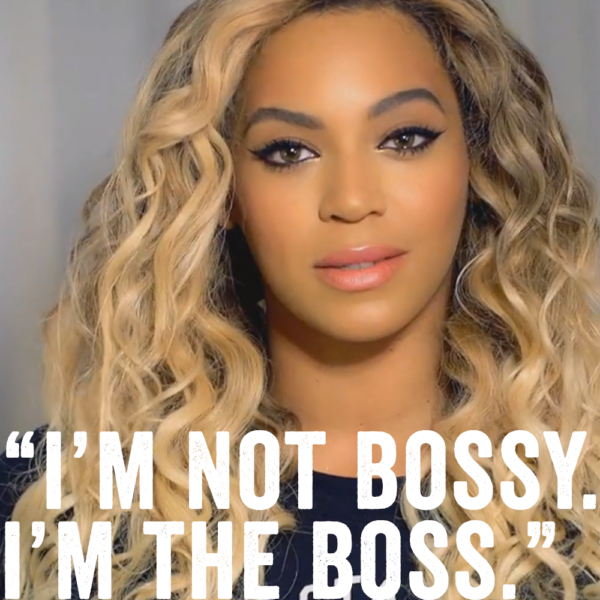 Anyone who follows me on Twitter and is an active timeline-scroller will notice that – amongst several things – for the past few weeks, I have been ranting about the 2014 Ban Bossy campaign, an initiative designed to encourage young girls and women to be bold enough to speak up and take up positions of leadership without fear of being called "bossy".
The main issue the campaign aims to highlight is this: A man who is driven and vocal about his opinions is seen as ambitious, however a woman in the same position is seen as being "bossy". Further, this campaign has been endorsed by Michelle Obama, Condoleezza Rice, Beyonce and several other arguably influential females. On looking at this for the first time, it may appear to be a campaign which should be embraced by all, especially women and young girls. I would even argue that many will wholly support the campaign without questioning it because that's what true anti-sexists are supposed to do.
However, there are numerous issues with this particular campaign:
The Word "Bossy":
In the 21st Century, this has apparently become a sexist word. As a very intelligent lady on Twitter pointed out, chances are that if you cannot handle being called seemingly 'unkind' words, you're perhaps not fit to be in a position of leadership in the first place. Being a leader comes with many challenges, some of which are likely to include unpleasant attitudes, actions and words, and anyone in such a position should be ready to take the heat. My argument is not whether or not the word 'Bossy' is offensive, as that is entirely relative; my point is that we cannot expect endless happy days, sunshine and rainbows in any position. Another tweeter highlighted that words like 'Bossy' don't marginalise women, rather women marginalise themselves by choosing to feel victimised.
Grow A Pair:
This Ban Bossy campaign makes women look like whiny wimps, in my opinion. I believe that this is a step too far in the Girl Power movement. Women don't need to be encouraged to act like victims; rather we need to get over ourselves and – forgive me for using this phrase – "man up". It's a man's world, and unfortunately, no one is going to stroke your hair because certain words make you uncomfortable. Further, I would argue that women tend to spend a significant amount of time fussing about issues which a man in the same position would not. If we truly are pushing for equality, grow a pair.
Generation C (Coddled):
Please read the next sentence very carefully. The world does not exist to please you. What sort of generation of women are being brought up? The solution is not coddling young girls and policing words. Guess what? When they go out into the big bad world, no one is going to give a rabbit's foot whether or not they find certain words unpleasant. What women need is to be encouraged to feel confident and secure enough in themselves not to allow words, either from their male or female counterparts, to shape their lives. If 'banning' words is the way to teach young girls to compete in the real world, then that right there is the real problem.
Good Idea, Flawed Logic?:
Overall, I would argue that the idea behind the Ban Bossy campaign is good one. Not too appear too cynical, I acknowledge that it was created to help young girls build up self esteem, be courageous enough to air their opinions freely without fear of judgement, and be unapologetic about achieving great things. However, I believe that the reasoning is flawed. Banning a word is not, and cannot be, the answer; if anything, other words will rise up to take its place. What will it be next?
So what do I think? #BanBanBossy.
Photo Credit: veooz.com