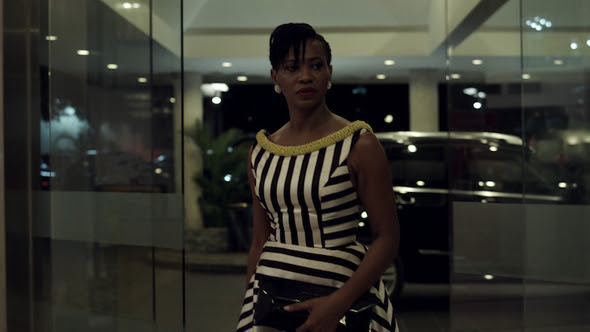 Directed and Written By: Shirley Frimpong Manso
Cinematography By: Ken Attoh, Eric Oppong Appiah
Major Cast: Adjetey Anang (Ben), Mawuli Gavor (Sam), Ama Ampofo (Claudia) and Nse Ikpe-Etim (Helen)
Produced By: Ken Attoh and Shirley Frimpong Manso
Synopsis
A happy marriage gets shaken to its roots when suspicions of infidelity sets in.
The Story
Late night phone calls, smirks while texting a friend, roses showing up at your door for your wife and lying about being at work. All this were the signs Ben saw that led to the conclusion that his wife Helen was cheating on him. The only problem is things don't 'always' seem the way they look.
Devil In The Detail is a romantic drama written by one of Ghana and Africa's most recognized and outstanding female filmmakers Shirley Frimpong-Manso. The movie tells a story we have seen before, with a brilliant twist in the end where the audience turn into the script writers and we have to write our own version of the movie's ending. While some movie goers felt the movie didn't have a closure, I believe it ended perfectly. Just like Kunle Afolayan's Figurine and Christopher Nolan's Inception, its intention is to spur a debate and keep people talking about the movie.
Right from the opening scene, sex was established as the central device. As a matter of fact, I have forgotten the number of sex scenes I saw in the movie. But after a deep thought about the movie, I understood that the sexual adventure and satisfaction between two certain characters was the reason the relationship continued and grew.
The movie dragged on a bit too long, and somewhere in the middle I was hoping things will speed up and see how the movie ends. (which was very satisfying).
The Directing
The directorial skills of Shirley Frimpong Manso couldn't be doubted. For a movie which I rate 'R' and wouldn't recommend for people below 18, there is hardly any nudity. However, she does a good job creating as much sexual 'explicity' as possible with little or no clothes off. But the glory of the movie's technicality isn't the nudity (Please, I am not a pervert like that).
The most impressive thing was the sound design. There was hardly any background music used and this was just perfect. And when there is music, it's well chosen and well placed.
The Acting
With a story which relied very much on some really important emotions, this would have been a failure with the wrong cast. But this was a well-chosen and enjoyable cast.
Ama Ampofo was annoying, believable, seductive and emotional when all were demanded from her, and she was splendid. It's hard to believe this is her first ever movie role. We will definitely be seeing a lot more of her.
Adjety Anang also did a nice job but I felt he could have been more flexible. He probably had only three facial expressions in the movie.
And lastly, Nse Etim -arguably the best actress in Nollywood right now. She didn't fail to show why she holds the number one spot on our list. Although this is not her best performance I have seen, (that I think is Broken) but she was the best actor in the movie.
The Verdict
Devil In The Detail does a good job in entertaining but when the debates are settled by fans, there isn't much the movie leaves behind. While I did enjoy the movie, I feel the movie could have done a better job with its originality.  It's a Soda & Hotdog for Devil In The Detail.

This review was brought to you by www.sodasandpopcorn.com Award winning movie blog. We Watch Movies So You (Don't) Have To.
Review by @don_sylvestre for @sodas_popcorn
Thanks for reading. Have you seen the movie? What did you think? Please drop your comments in the box below.