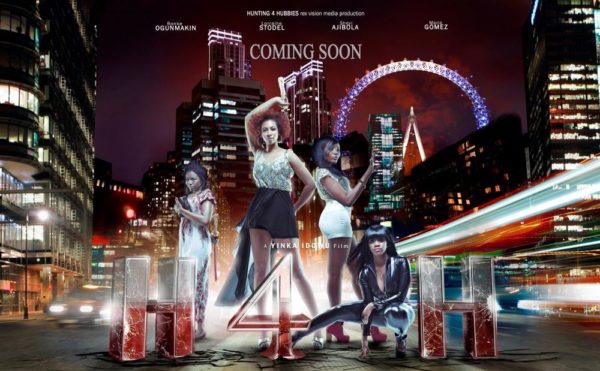 4 ambitious young women, one ultimate goal – getting someone else's husband.
Hunting 4 Hubbies is a new British-Nollywood feature film that will raise a few eyebrows but is certainly entertaining. It is all about lust, love and betrayal.
Synopsis
Marie Kumba Gomez (Vicky), Sheyi Ajibola (Aisha), Ronke Ogunmakin (Bimb0) and Lorraine Stodel (Nnena) are femme fatales tired of the shrinking pool of mugus to rip off. They decide to up their game by taking up a new racket – get married, get divorced, take half!

Unfortunately, with so many men in England too hesitant to walk down the aisle, they decide they have to choose the easiest targets, those who have been caught before, the married ones!
The movie also stars Tapiwa Madovi, Amour Owolabi, Orwi Imanuel Ameh and Nosa Igbinedion. They play the unwitting (though somewhat willing) hubbies who get caught up in the girls' runs.
The movie is scheduled to premiere in London this Summer (June/July/August).
It is hilarious, dramatic and a surprising thriller. Hunting 4 Hubbies is directed by Yinka Idowu and produced by Jagwah Jaiye (Rex Vision Media Ltd)
Watch!