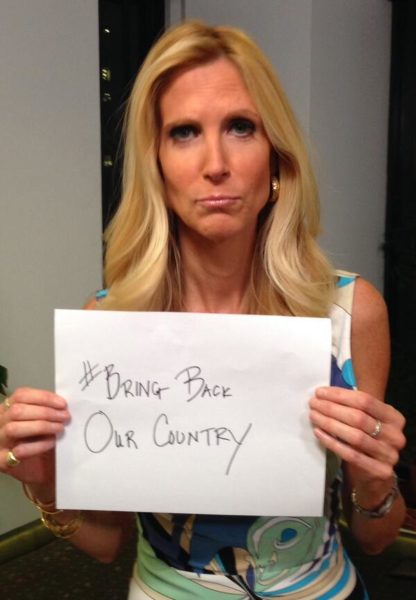 Don't mess with the #BringBackOurGirls.
Yesterday, you all went in on the Fox News Panel who mocked the hashtag activism – read it here, it'll be interesting to know what you think about this one.
Ann Coulter is a US conservative commentator. On Sunday, she tried to mock the campaign in raising awareness for the  200+ girls abducted in Chibok area of Borno.
My hashtag contribution to world affairs … pic.twitter.com/Wkb8ozYZFC

— Ann Coulter (@AnnCoulter) May 12, 2014
So a lot of people on Twitter were offended, here's what they did
Yeah, you do @AnnCoulter. We're pretty used to you being a horrible person though. Nothing new pic.twitter.com/kOekbLwCRa — Tony CubanB Boston (@chaosbringer616) May 12, 2014
A bit long in the tooth so to speak … pic.twitter.com/0XBUb03gM1 — Cletis Stump (@CletisStump) May 13, 2014
#AnnCoulter @AnnCoulter is small and ignorant. pic.twitter.com/B4vjy88hzM

— Jacob (@jacob777k) May 12, 2014
What's Anne Coulter's favorite font? #AnnCoulter @AnnCoulter pic.twitter.com/xHVPTY7tx5

— Jacob (@jacob777k) May 12, 2014
#AnnCoulter is terrible. pic.twitter.com/QmbLvAoiYe

— Jacob (@jacob777k) May 13, 2014
What are you really saying @AnnCoulter pic.twitter.com/jWJxEy8hGx

— 0rionsangel (@0rionsangel) May 12, 2014