PARIS (AP) — Instead of looking forward to playing each other this week at the French Open, Serena and Venus Williams will both be heading home early.
The American sisters both lost in the second round on Wednesday, each being outplayed by little-known opponents at Roland Garros.
Serena, the defending French Open champion and a 17-time major winner, lost to Garbine Muguruza of Spain 6-2, 6-2. It is her earliest exit at a major tournament since falling in the first round at Roland Garros two years ago.
A short time earlier, older sister Venus was eliminated by Anna Schmiedlova of Slovakia 2-6, 6-3, 6-4.
The Williams siblings would have met in the third round had they both won.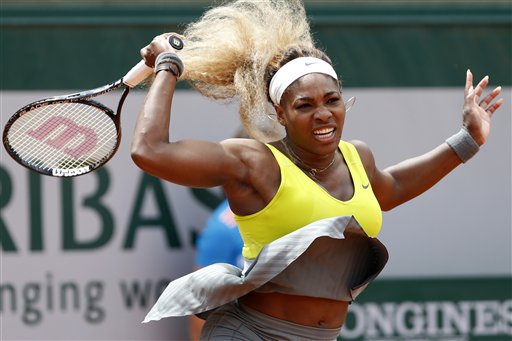 "It was one of those days. You can't be on every day, and, gosh, I hate to be off during a Grand Slam," the top-seeded Serena said. "It happens, you know. It's not the end of the world. It is what it is."
The sisters have lost on the same day at a major tournament twice before, with the last coming in the fourth round at Wimbledon in 2011. The other time was at the French Open in 2008 in the third round.
With Li Na also eliminated, it is the first time in the Open era that the top two seeded women have lost before the third round at any Grand Slam tournament.
Photo Credit: AP
Story Credit: Chris Lehourites for AP