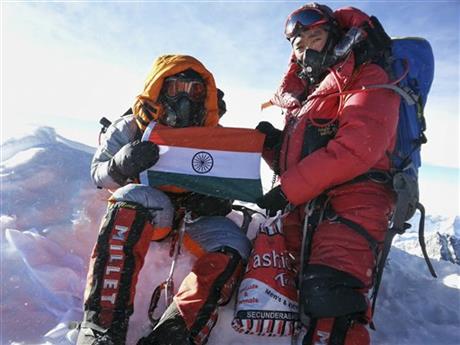 Malavath Poorna makes history.
On Sunday 25th May 2014, the 13-year-old daughter of poor Indian farmers became the youngest girl to climb Mount Everest.
At a press conference held yesterday Wednesday 4th June 2014, she revealed that she "shed joyful tears" at the summit after a grueling climb.
According to Associated Press, Nepal requires climbers to be at least 16 years old to scale its peak, but she and a team of Nepalese climbing guides made it to the top on May 25th from the northern side in Tibet. China has no age restrictions.
Malavath says "it was very difficult. Every step is a dangerous step", and she saw "six dead bodies. I was shocked. Oh my God, I got some fear."
The climb was verified by the China Tibet Mountaineering Association in Lhasa, making Malavath the youngest girl to climb Everest. American Jordan Romero became the youngest boy at age 13 to reach the summit — also from the Tibetan side — in 2010.
Her parents encouraged her during eight months of training. The journey was sponsored by the Andhra Pradesh Social Welfare Residential Educational Institution Society, as part of its program to help underprivileged children.