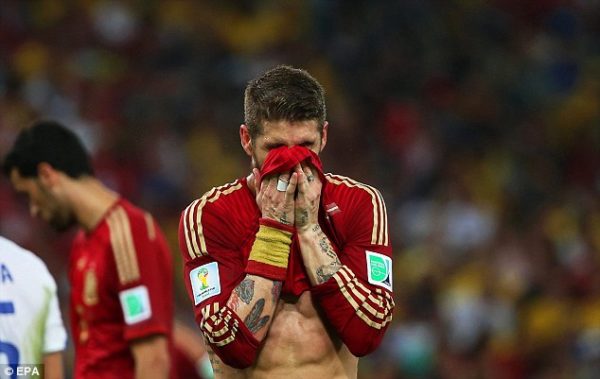 A Spanish side that got all accolades at Euro 2008, the 2010 World Cup and Euro 2012 , had to produce a reaction like that of four years ago when they bounced back from a defeat in their opener to Switzerland. It seemed like a quest they couldn't achieve.
Things have got to change in the Spanish national team. The Tiki-Taka style of play isn't working anymore (Barcelona's 2013/14 season is a testament) and experienced players like Xavi, Casillas have to make way for the young, fast paced and talented players to grow. They have served their country well and given so much, but sincerely, international retirement is the right step to take.
Right form the first game, Casillas and the centre-back pairing of Sergio Ramos and Gerard Pique looked like they had never met before, let alone won a World Cup and two European championships together. Del Bosque made changes for their second group game against Chile with Javi Martinez and Pedro replacing Gerard Pique and Xavi, but they also failed to impress.
Despite strengthening their attack with Fernando Torres and Santi Carzola after the break, they still found it hard to create chances, and earned a well-deserved defeat that dumped them out of the World Cup with one game still to play in the group stage.
Spain seemed to inject more urgency into their game at the start of the second half, but they couldn't exercise the control that had been the mainstay of their success in recent years, thus, unable to force a goal.
Claudio Bravo, with the Chile goal, really did his name justice with more top-class saves – to stop Cazorla's attempts to salvage a point in the final minutes of the game.
Spain looked like tired legs and after their 2010 World Cup success between two European Championship wins, their reign has come to a heart breaking end.
It is, however, not the first time the reigning world champions have failed to make it out of the group stage, Italy suffered the same fate in 2010, France in 2002, Brazil 1966 and Italy 1950 – but this is the only time has it happened after the first two games.
Spain, Australia and Cameroon (who lost lost Croatia and embarrassingly had a teammate scuffle on the pitch), are the first set of teams to make an exit from the tournament in Brazil, after failing to register a point from their opening two fixtures and have no chance of progressing to the round of 16.
When asked "Is this the end of an era?" Iker Casillas, the Spain captain answered, "Things are going to change. Eras end with defeats … and this was a painful defeat. Now we're going home."
_______________________________________________________________________________________
Adeola Omitiran is a BSC Graduate in Mass Communications with news, sports & lifestyle journalism experience for over 3 years. As an avid lover of sports, she is living her dream of keeping the football world on its feet.