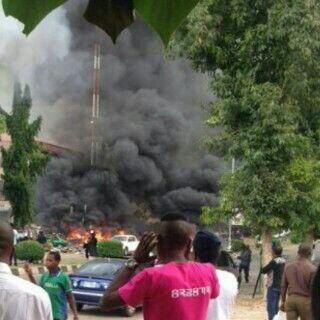 A breaking story now. There has been an explosion around Banex Plaza in Wuse II, Abuja. People on the scene are reporting that the explosion took place at Emab Plaza close to the popular Banex Plaza in Abuja.
Details are yet to be made know. Sahara Reporters broke the news via a tweet seconds ago.
Update
The explosion rocked the parking lot of Emab Plaza Close. An official has revealed that 21 people have been killed and 17 injured.
The explosion destroyed 40 vehicles. "There was an explosion at ever-busy Emab Plaza around 4 p.m. at the peak of business. We have succeeded in evacuating people from the area, and security personnel have taken control of the scene." said the official
BREAKING NEWS: Bomb blast hits Banex Plaza, Wuse II Abuja …details soon

— Saharareporters (@SaharaReporters) June 25, 2014
Banex pic.twitter.com/wqGQ1tVLJg — Mahmud Jimada (@marhmooud) June 25, 2014
Live photos: Bomb Blast At Banex Plaza Wuse 2 pic.twitter.com/7AssA0OY72

— ABUJA FACTS (@Abuja_Facts) June 25, 2014
Photo Credit: @asadoyi via Twitter