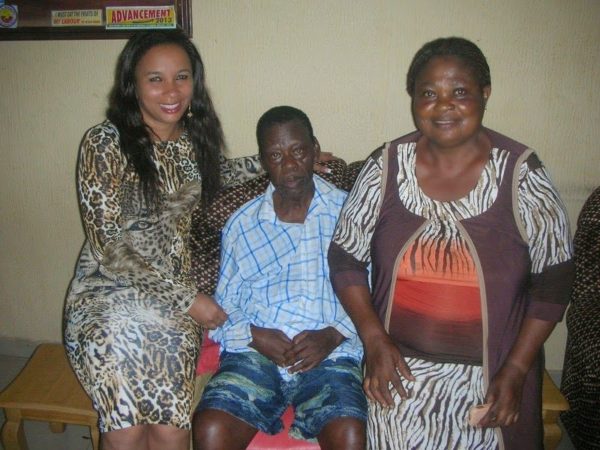 Veteran Nollywood actor Romanus Amuta, popularly known as Natty from the 80's sitcom New Masquerade is shutting down reports that he is dead.
Over the past 24 hours, news of his death as a result of partial paralysis has gone viral
Speaking with the Nollywood Television in Enugu, the actor confirms he is very much alive, and praised AGN president Ibinabo Fiberesima for helping save his life.
"I am very much alive" he says.
"Ada'm, Ada di ora nma, only God will reward you for saving my life. You have showed me that there is God. Anybody that says you are not working is not well. As you have saved my life, God will continue to preserve you. You brought me to this kind of big man hospital, paid everything, still gave me and my family extra money and still you have bought food stuff for me that doctor said I should be eating, only God can reward you, you have given me hope, now I am free" Amuta said while commending Ibinabo on service to AGN members.
Ibinabo held hands with the family and prayed. She also thank God for President Goodluck Jonathan who loves Nollywood and provided the benevolence funds that has made possible AGN's dream of taking care of its sick members.
Overwhelmed with the love and kindness, Natty's wife launched into thanks. "You have showed me today that God is a human being, he is a woman and her name is Ibinabo, madam thank you, Nollywood Television please help me to tell the world the good things this beautiful woman have done for me and my family, anybody that speaks ill of madam will incur the wrath of God, my husband is alive and will get better, God has used madam Ibinabo to bless me, Thank You Lord" she said.
On the good deed, Ibinabo said "It is a blessing to me that God has given me a platform through which I can show forth his goodness, I will only encourage people to come on board and join the health scheme that the guild has secured for its members."