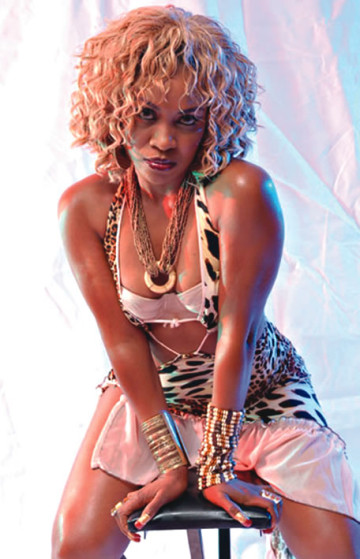 Singer and actress Muma Gee has kept a low profile after welcoming twins – a boy and a girl in April 2014.
Recently, she spoke on her reason for not choosing to give birth to her children abroad.
In an interview with Punch Newspaper for its "Fashionista" column, she opens up about being called "fake", her expenses on hair, and shoes as well as her thoughts on cosmetic surgery.
Muma Gee also revealed that she is going back to school to study Marketing at the Rivers State Polytechnic, to refine her skills in the business world.
Read excerpts;
On how much she spends on her hair: "The hair piece alone costs a lot of money, especially in these days of human hair. I normally use 11 packs of human hair and each piece is not less than N60, 000. At the end of the day, I end up spending about N500, 000 to do my hair at once."
On changing the hairstyle after a month: "Don't get me wrong. It is actually the hair pieces that can go for that amount and those hair pieces can last for years. I have had hair extensions that have lasted for over 10 years. Each time I remove the weaves, I take it to hair companies and they treat the hair and they are as good as new."
Her thoughts on low cut: "I have never worn low cut, even as a child. A woman's hair is her grace and glory. Even though I am an artiste, I am a born-again Christian and my Bible tells me a woman's hair is very precious. I have never cut my hair. Even now my hair is as long as 20 inches and it is very black. But I don't carry my natural hair at all."
On her shoe collection: "I have about 500 pairs and still counting. There are some I have not worn for over two years and they are still trendy, I love heels."
On her bold fashion choices: "I used to be very daring but with my current status as a wife and mother, I am not that daring any longer. Gone are the days when I had to dress crazily because I am an artiste. Now, I am crazy but with a touch of class. Then, nobody cared about class, you just wanted to be crazy and be an artiste and dress like one. Now, I am a CEO and I have to dress responsibly. Even as I wear full hair, I still have to pack my hair. As a housewife, I wrap it up somehow. But when I am on stage, I can go wild. It depends on the kind of show anyway. If it is a corporate show, I have to look responsible and wear a classy dress. At a time in my career, I couldn't care if the event was classy or corporate; I just came out as Muma Gee. Now, I have to depict the mood of the event."
On her look at the Ovation Red Carol: "I think we were all given uniforms. Everybody was going to wear the same thing and I wanted to be different. With my level of understanding now, I could have been different in a different way. But I had bow legs and I wanted to flaunt my bow legs for the first time so I even wore black tights under the skirt and the fashion police snapped me. Some said I exposed my private parts but that is not true. I wore black tights and that was what was in the picture,"
What she thinks about cosmetic surgery: "If it is corrective surgery, I don't think it is bad. But I don't believe in unnatural things. I don't like fake things. I don't believe in fake boobs and butts. The little you have, God has complemented you with what you have, so you should be contented with those ones."
On often being referred to as "fake": "It is quite unfortunate. I don't know why people see me as a fake person but I don't believe in such. People think I faked my age and lied that I was younger than my real age. Everybody in the industry claims they are '20' and because people have been hearing about me for a long time, they think I should be 70. I am unfortunate in things like that. During the celebrity Gulder Ultimate Search, some of the contestants said I was fake because I came to the forest with my make-up kit."
On why she sleeps with make-up: "I say to people that I make-up and go to bed in case I die in my sleep, I want to still look beautiful. As a nursing mother, I could leave the house without make-up but not completely. I must have my powder. When you see my face look bare, I am wearing make-up. I cannot sleep and wake up and take my bath without wearing make-up. Even before I come out of the bathroom, I would have had my first make-up on."